Mark Whetzel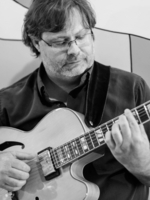 Education
BS, James Madison University (Psychology)
This information has been pulled from J1.
If any of the above information is incorrect please see the instructions for directory updates.
Biography
Mark Whetzel has taught guitar privately since 1983. He has been on the faculty of Eastern Mennonite University for over 25 years where he teaches all levels of guitar. He has studied with some of the most respected and influential guitarists in the country including Andrew York, Tim Reynolds and John Abercrombie.
Mark's work has also been featured in various music publications and websites including Guitarchalk.com, Americana Rhythm and Singer & Musician Magazine where his articles focus on theoretical and technical issues as they relate specifically to fingerstyle and jazz guitarists.