Hannah Kelley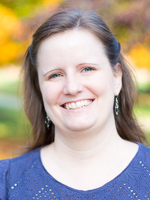 Education
BA, Malone University (Bible and Theology)
MDIV, Fuller Theological Seminary
This information has been pulled from J1.
If any of the above information is incorrect please see the instructions for directory updates.
Biography
Hannah joined CJP and STAR in the Fall of 2016. Currently serving as STAR Director, Hannah oversees the administration of the STAR program as well as CJP professional education programs. Prior to CJP, Hannah worked at Fuller Theological Seminary in a variety of roles, including providing a wide range of administrative support to faculty and administrators in the School of Theology.
Hannah earned a Master of Divinity degree from Fuller Theological Seminary and uses it to answer (or attempt) the hard theological questions posited by small children. "What kind of shoes does Jesus wear?" and "Do we really have to love the bad guys?" Learning to love the bad guys drew her to work at CJP, where people learn to transform conflict and engage the pain of the world. When not asking small children what sort of shoes they think Jesus wears, Hannah enjoys a good novel, a dark cup of coffee, and her nephews.