Irene Kniss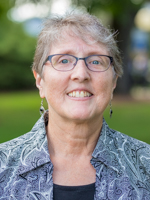 Education
AS, Marion Technical College (Nursing)
BS, Old Dominion University (Nursing)
This information has been pulled from J1.
If any of the above information is incorrect please see the instructions for directory updates.
Biography
Irene grew up in a rural farming area in Ohio. She was the first in her immediate family to choose higher education. Irene met Philip,her husband of 41 years, in Florida and is the mother of three daughters and grandmother of four.
Irene has worked as a nurse in critical care, pediatrics, general medical/surgical and oncology. Irene has volunteered at the local Free Clinic. Irene worked in a law firm as a legal nurse consultant for almost 14 years, reviewing and analyzing medical records and drafting legal documents. Irene continues to provide these services through her private consulting business, Kniss & Spencer Legal Nurse Solutions.
Irene is an avid baseball and college basketball fan.
Mission Statement
I have a compassion for the health and well-being of humanity. I have a special interest in working in the university setting where I have the opportunity to be challenged by dynamic students, faculty and staff. I am dedicated to work collaboratively with all areas of student life and departments on campus to provide a community of support to all through health services.
Certifications and Licenses
CERTIFICATIONS
Mediation & Conflict Resolution Training – 20 hours training at Fairfield Center, Harrisonburg, VA – September 13-15, 2010
Current LNCC Certification through 2018(Legal Nurse Consultant Certified)
2003 Initial Certification as LNCC
1995 through 2003 ONC (Oncology Nursing Certification)
LICENSES
Active Licensure as RN in Virginia 1980 -1983 and 1990 to present
Past Licensure as RN in Florida and Ohio
Professional Memberships
2002 to present: Member of AALNC (American Association of Legal Nurse Consultants)
2011 to 2018 a Member of the National AALNC Certification Board