Joshua Lyons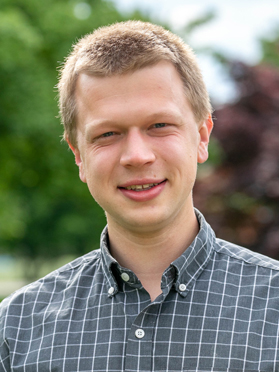 Education
BS, James Madison University (Computer Science)
This information has been pulled from J1.
If any of the above information is incorrect please see the instructions for directory updates.
Biography
Joshua Lyons is the Front-End Web Developer & Analyst within the Marketing and Communications Department. He works on developing and maintaining the EMU website's functionality and appearance. He also supervises the creation of EMU-based blogs and email templates. Additionally, Joshua is the primary analyst of website traffic and user data.
Joshua grew up in Madison, VA, living there until 2012 when he moved to Shenandoah Valley to pursue his education. He graduated in May of 2016 with a BS degree in Computer Science from James Madison University. Joshua and his wife, Katherine, were married in the summer of 2016 and currently reside in Harrisonburg with their sons Chase and Blake. Outside of work Joshua spends his time trail running, backpacking, and enjoying the outdoors.
Professional Conferences Attended
2019 OmniUpdate User Training Conference
2018 OmniUpdate User Training Conference
EMU Service
(Feb 2017 – ) Recorder, University Web Work Team
(Sep 2016 – Feb 2017) Chair, University Web Work Team
(May 2016 – Aug 2016) Member, University Web Work Team