Leah Boyer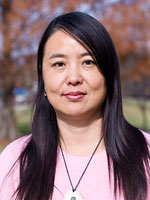 Education
MS, (Physics)
PHD, (Photochemical Sciences)
This information has been pulled from J1.
If any of the above information is incorrect please see the instructions for directory updates.
Biography
Leah Shao Boyer, associate professor of physics. Leah earned a bachelor of electrical engineering from Dalian Marine College (China), a M.S. and a Ph.D. in physics from Bowling Green State University. Her doctoral dissertation topic was "Preparation and Characterization of II-VI compound Semiconductor Thin-Films by Pulsed Laser Deposition (PLD)." Leah came with teaching experience in general physics and material science as well as professional experience as an engineer in the United States and in China.
Scholarly Presentations and Abstracts
4/12 Presentation on "Solar Panel Physics" on EMU campus
Church, Community and Professional Service
-The official community interpreter (Chinese-English), activities including: being an advocate for cultural diversity and a community leader for RMH; being the volunteer translator for HHS including translating letters once a week and attend parent/consultant meetings once/twice a month; being the volunteer translator for EMHS including attending telephone conference with the principle at EMHS and parents of their student.
-Being the volunteer judge for VJAS (Virginia Junior Academy of Science).
Honors, Awards and Grants
2012 Summer Teaching Funding for designing a new course "Intro to Engineering"
Travle funding from STEM for AAPT Summer Annual Conference
Professional Memberships
Member of American Associate of Physics Teacher (AAPT).
Member of American Scientific Affiliation (ASA).
Member of American Association of University Professors (AAUP).
Professional Conferences Attended
10/2011 13th Annual Mid-Atlantic Regional Conference of Undergraduate Scholarship
10/2011 7th Shenandoah Undergraduate Mathematics and Statistics Conference
My student gave a talk both time on the research paper "Analyzing Projectile Motion with Air Resistance in General Physics Lab", co-author by the student and myself
EMU Service
a. Committee of PPHS.
b. Advisor to pre-engineering students.
c. Being the faculty member for yearly Summer STEM: conducting 4 day experiments with ~40 admitting Science majors from EMU, BWC,BBCC and JMU.
d. Being the advisor for a newly formed EMU student organization: minority PPHS student organization.