Robert Curry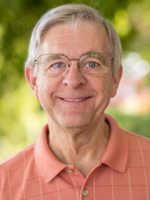 Education
BA, Butler University (Music Education)
MA, Brigham Young University (Music Education)
This information has been pulled from J1.
If any of the above information is incorrect please see the instructions for directory updates.
Biography
Robert Curry, adjunct faculty and director of the Jazz Ensemble and Wind Ensemble at Eastern Mennonite University, retired recently after teaching public school music for 41 years — 2 years in Colorado and 30 years in Utah including 24 at Highland High School in Salt Lake City, and nine years in Virginia. The GRAMMY Foundation recognized Highland HS on four different occasions as a GRAMMY Signature School. He holds a Bachelor of Music degree from Butler University in Indianapolis, Indiana; a Master of Arts degree from Brigham Young University; and has done post-graduate study at the University of Utah. Bob has had articles published in The Instrumentalist, Teaching Theatre, and the Interface, the journal of the Utah National Association for Music Education. He has also graded Advanced Placement Music Theory tests. The College Board published his AP Music Theory curriculum in the 2007 edition of the Teachers' Guide for AP Music Theory. Bob has composed and arranged orchestra music published by Tempo Press and Wingert-Jones; and was the editor of Mahew Lake's band arrangement of The Barber of Seville Overture published by Carl Fischer. He has been listed in Who's Who in American Education three times and Who's Who in America on one occasion.
An active performer, he has performed with the Salt Lake Symphonic Winds and was assistant conductor of the ensemble for several years. In Harrisonburg he performs with Just Jazzin', an adult community big band. He has been married to Dr. Vicki Curry, a professor at JMU, for 42 years. They have two children.
Mission Statement
My basic philosophy in the classroom is to learn about music through performance in a safe environment that promotes problem-solving and critical thinking skills. Performance includes understanding the theoretical, historical, and aesthetic elements of the music in order to present the music in the light for which it was intended. This would include factors such as harmonic and rhythmic vocabulary, cadence emphasis, phrase structure, aesthetic principles, instrumentation evolution and more. In my classroom each student is treated as an individual. I believe students should be on time; be prepared; and be respectful of themselves, others and equipment. Remaining active in the profession is a prominent part of my beliefs to focus the classroom experience. As a performer I was a founding member of the Camerata Brass and the Salt Lake Symphonic Winds. I have been a substitute performer for several amateur orchestras in the Salt Lake City area.
Honors, Awards and Grants
November 2014 – received Outstanding Cooperating Teacher Award from James Madison University
February 2007 – received Presidential Music Education Award from Utah Music Educators Association state chapter
December 2006 – Named as one of "50 Directors Who Make a Difference" in SBO Magazine
1998-99, 1999-2000, 2000-2001 and 2002-03 GRAMMY Foundation Signature School Award
Who's Who in American Education – three listings
Who's Who in America – 2007
Phi Kappa Phi (National Scholastic Honorary)
Certifications and Licenses
Commonwealth of Virginia Post Graduate Professional license for Instrumental Music K-12, valid until June 2021
Courses Taught
MUES233A Instrumental Methods :Brasses
MUPS 271, 274 Private Studio Tuba and Trumpet
MUES341 Jazz Ensemble