Kate Clark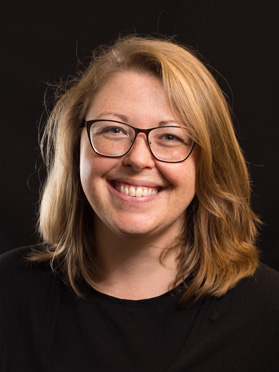 Education
BS, Eastern Mennonite University (Nursing with minor in Justice, Peace and Conflict Studies)
DNP, University of Virginia (Nursing Practice)
MSN, University of Virginia (Communication and Public Health Leadership)
This information has been pulled from J1.
If any of the above information is incorrect please see the instructions for directory updates.
Biography
Dr. Kate Clark is an Assistant Professor in the Nursing Department. She earned her undergraduate Bachelors of Science in Nursing from Eastern Mennonite University in 2007. In 2011, she earned her Masters of Science in Nursing from the Unviersity of Virginia with a concentration in Community and Public Health Leadership. In 2018 she completed her Doctor of Nursing Practice from the University of Virginia. Dr. Clark is a Board-Certified Advanced Public Health Nurse and her areas of interest include Immigrant and Refugee health as well as Healthcare Navigation experiences of non-English speaking patient populations. She has taught at Eastern Mennonite University since 2011. Her undergraduate courses include Family Nursing in the Community, Community/Public Health Nursing and Evidence-based Practice. She has also taught periodically in the RN-BSN program and in the Masters of Science in Nursing program at EMU.
Dr. Clark lives locally in Harrisonburg with her husband Nate Clark and their two children, Emelia and Vivian. When she's not working she enjoys cooking, hiking and reading.
Other Presentations
March 2012
Mennonite Health Assembly: Racing Toward Possiblities
Louisville, KY
Plenary Panel Discussion
Title: From possibility to practice
October 2011
American Public Health Associate Annual Meeting
Washington D.C
Roundtable Presentation
Co Authors: Hershberger, A., & Kulbok, P.
Title: Collaborating with community health workers to improve health of a high risk population
April 2011
Sigma Theta Tau Pi Mu Chapter Professional Development Day
Harrisonburg, VA
James Madison University Poster Presentation
Title: Community health worker program in rural Virginia
March 2011
Virginia Youth Tobacco Project Annual Conference
Richmond, VA
Graduate Research Assistant Presentation
Title: Realities of community collaboration in participatory research to design a youth substance abuse prevention program
Church, Community and Professional Service
2013-Present
Harrisonburg Health Literacy Coalition
Harrisonburg Community Health Center
2010-Present
Harrisonburg Healthy Community Council
2011-2013
Community Health Worker Program Steering Committee
2008-2011
Education Council for Family Birthplace
Rockingham Memorial Hospital
2008-2009
Diversity Council
Rockingham Memorial Hospital
2008-2009
Interprofessional Collaboration Council
Rockingham Memorial Hospital
Honors, Awards and Grants
January 2011-August 2012
Community Health Worker Program Grant
Harrisonburg Community Health Center/Eastern Mennonite University
Program Coordinator
October 2011
Public Health Nursing Section Scholarship Award
American Public Health Association
April 2010
Outstanding Graduate Teaching Assistant Award
University of Virginia School of Nursing
Certifications and Licenses
2014-Present
Advance Public Health Nurse
2007-Present
Registered Nurse
Professional Memberships
2011-Present
Association for Community Health Nurse Educators
Member
2011-Present
American Public Health Association
Public Health Nursing Chapter
Member
2011-Present
Mennonite Health Assembly/Mennonite Healthcare Fellowship
Member
2006- 2013
Sigma Theta Tau International, Pi Mu Chapter
Eastern Mennonite University Eligibility Coordinator
New Courses Taught
Evidence-Based Practice in Nursing
Community Health Nursing
Community Nursing Clinical
Family Nursing