Linda Alley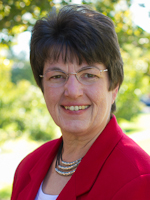 Biography
Linda retired in June 2016 after 27 years of service. Read more in this "Celebrating Service" article.
While her roles as an EMS employee are many, she is especially pleased to merge her ministry and work interests as Director of the Summer Institute for Spiritual Formation – a June training school for spiritual directors and church leaders who want to pay close attention to spiritual grounding for those they serve.
Whether coordinating seminary events, directing the Congregational Resource Center library, or job-sharing with Beverly Delp at the main seminary desk, Linda's sense of being in the right place at the right time in her life is evident. On her own time she serves individuals and retreat groups as an ordained Church of the Brethren minister.
She and her husband, retired pastor Robert Alley, have three married children and six grandchildren. Her current interests include flower gardening, Celtic Christian prayers and songs, and afternoon teas.