Anna Westfall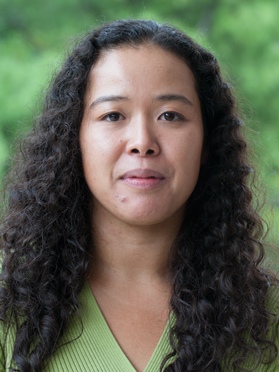 Education
BFA, James Madison University (Ceramic & Sculpture)
MFA, University of New Mexico (Ceramic & Sculpture)
This information has been pulled from J1.
If any of the above information is incorrect please see the instructions for directory updates.
Biography
Anna Westfall earned an M.F.A. from the University of New Mexico and a B.F.A. from James Madison University. Westfall is a multi-disciplinary artist whose work often explores the complex relationship between memories, genetics, cycles in nature and the larger system of culture that inform identity. Her sculptures and installations attempt to create the essence and energy found in the natural world while speaking to human perception and understanding of its character. With various materials including porcelain, steel, video projections, acrylic sheet and light, she attempts to capture the ephemeral and fluid nature of identity as well, while speaking to the duality of an immutable essence that exists beyond the material. In addition, Westfall is interested in the value of functional objects that are used in daily life, which shape personal and cultural aesthetics. Westfall has exhibited her work in Virginia, New Mexico, Georgia, Washington D.C., and Massachusetts.
Scholarly Presentations and Abstracts
Workshops
Figurative Sculpture, James Madison University, Harrisonburg, VA (2019)
Lecture
Blueprint: Self and Systems, Slide lecture and presentation, Harwood Art Center, Albuquerque, NM (2005)
Exhibits, Performances and Productions
Solo &Two-Person Exhibitions
Spectra Gallery, Honors College, University of New Mexico, Albuquerque NM (2022)
East Central College, Union, MO- Two-Person (2021)
Asbury United Methodist Church, (2019)
Community Mennonite Church, (2019)
Linking Meandering Paths, James Madison University, Lisanby Museum, 12th Annual Diversity Conference, Harrisonburg, VA- Two-Person (2018)
Searching the Unseen, Eastern Mennonite University Margaret Martin Gehman Gallery, Harrisonburg, VA –Solo (2017)
Penumbra, Gallery at Flashpoint, Washington DC-Two-Person (2007)
Blueprint: Self and Drifting, Eastern Mennonite University Hartzler Library Gallery, Harrisonburg, VA –Solo (2007)
Blueprint: Self and Systems, Harwood Art Center, Albuquerque, NM (Catalog)-Solo (2005)
Selected Group Exhibition
Faculty Exhibition, Eastern Mennonite University Margaret Martin Gehman Gallery, Harrisonburg, VA (2020)
Seven Ceramics Artists, Arts Council of the Valley (2019)
[Dis]connection, Currents New Media 2017, Santa Fe, New Mexico (Collaborative Installation, Juried, Video Catalog) (2017)
Adjunct Faculty Exhibition, The Cleo Driver Miller Gallery Bridgewater College, Bridgewater, VA (2011)
The Cradle Project, Albuquerque, NM- collaborative (Selected for publication)(2008)

BOR

Exhibition, Board of Regents of the University System of Georgia, Atlanta, GA (2008)
Faculty and Student Exhibition, Savannah State University, Savannah, GA (2007)
Palette Contemporary Art and Craft, Albuquerque, NM- Representation (2006)
N.I.S.D.A. Art Challenge II, The Silo Gallery, Nantucket, MA (Juried) (2005)
High UV, The Land/ An Art site, Inc., Mountainair NM (Juried) (2005)• Palette Contemporary Art and Craft, Albuquerque, NM- Featured artist (2005)
Shaping Spirit: 25 Years of the Arita Method of Porcelain at

UNM

, Maxwell Museum, Albuquerque, NM (Juried) (2005)
The Next Generation, Santa Fe Clay, Santa Fe, NM (Juried) (2004)
Fecund, Traver Lucero Gallery, Albuquerque, NM (2004)
University of New Mexico Ceramics Club Exhibition, Albuquerque, New Mexico (2004)
Graduate Art Association, Silent Auction, Harwood Art Center, Albuquerque, NM (Collaborative) (2004)
The Ninth Annual Juried Graduate Student Exhibition, Jonson Gallery, Albuquerque, NM Jurors: Thomas Barrow, Dan Devening, Ellen Landis (Juried, Catalog) (2003)
Celebration of Clay, Works in Clay by Members of the New Mexico Potters Association Harwood Art Center, Albuquerque, NM (2003)
Eight Squared, Center for Contemporary Arts, Santa Fe, NM (2003)
Graduate Art Association, Silent Auction, Harwood Art Center, Albuquerque, NM (2003)
Small Works Show, Harwood Art Center, Albuquerque, NM (2002)
Incoming Graduate Group Show, Jonson Gallery, Albuquerque, NM (2002)
Outdoor Sculpture, Franklin Street Gallery, Harrisonburg, VA (2000)
Undergraduate Juried Exhibition, Sawhill Gallery, James Madison University, Harrisonburg, VA (Juried) (1998)
Performance and Productions
Shadow Puppet Designer, EMU's spring 2019 theater production, Beauty and the Beast (2019)
Props Designer, Firebrand: The Life of Paul (2018)
Sculptor (sculpture and sculptural hats),

EMU

's fall 2016 theater production Far Away (2016)
Water Vignettes,

KUNM

89.9 FM, Radio Presentation (Collaborative) (2003)
Church, Community and Professional Service
Sacred Arts Committee Member, Asbury United Methodist Church, Harrisonburg VA (9/17-Present)
Juror, 6×6×30 Art Show Spitzer Art Center, hosted by

VMRC

, Harrisonburg VA (3/17)
Art Donation, Nasaruni Academy for Maasai Girls (2016, 2017)
Art Donation, The Cradle Project, The Firelight Foundation Albuquerque, NM (06/08)
Instructor (workshop), 19th Annual Black Heritage Festival Course: Sculptural Ceramics for children and adults (2/9/08)
Instructor (workshop), 18th Annual Black Heritage Festival Course: Sculptural Ceramics for children and adults (2/10/07)
Sculpture Monitor, James Madison University, Harrisonburg, VA Department of Art and Art History (9/98-12/00)
Assistant to Instructor (workshop), James Madison University, Harrisonburg, VA The Summer Arts Institute. Course: Ceramics (Summer 1998)
Honors, Awards and Grants
Honors Research Institute Grant
Honor's Collage, The University of New Mexico, Albuquerque, NM
(Collaborative Project) (2017)
Flashpoint Gallery Stipend (funded by the National Endowment for the Arts)
Flashpoint Gallery, Washington, DC (2007)
Graduate Research and Development Grant
Graduate and Professional Student Association
The University of New Mexico, Albuquerque, NM (2005)
Student Research Allocation Committee Grant
Graduate and Professional Student Association
The University of New Mexico, Albuquerque, NM (2005)
Research Project and Travel Grant
Office of Graduate Studies
University of New Mexico, Albuquerque, NM (2005)
Department of Art and Art History Supplemental Research Project and Travel Grant
Department of Art and Art History
The University of New Mexico, Albuquerque, NM (2005)
Student Research Allocation Committee Grant
Graduate and Professional Student Association
The University of New Mexico, Albuquerque, NM (2004)
Courses Taught
Installation and Experimental Media
Senior Studio Practicum
Survey of World Art
Art Internship
Survey of Modern and Contemporary Art
Survey of Western Art
Ceramics, Intermediate Ceramics, Advanced Ceramics, Advanced Studio
Three-Dimensional Design
Foundations of Design, Two-Dimensional Design
Art History (Prehistory to 1400)
Sculpture
Introduction to Art, (Art Appreciation)
Kiln Firing
EMU Service
Gallery Director (2016-present)
Satisfactory Academic Committee (2018-present)
Committee on Teacher Education (2018-present)
Faculty Advisor, Arts Club (2016-17, 2018-present)
Search committee member, new faculty search in VaCA (2016)
VaCA Advisor (2015-present)
Library committee, 2016-17