Brian Martin Burkholder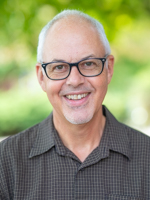 Education
MDIV, Associated Mennonite Biblical Seminary
MA, The University of Akron (School Counseling)
BS, The University of Akron (Elementary Education)
This information has been pulled from J1.
If any of the above information is incorrect please see the instructions for directory updates.
Biography
Brian Martin Burkholder serves as University Chaplain and Director-Office of Faith and Spiritual Life. Raised in The United Methodist Church and now ordained for ministry in Mennonite Church USA, he previously worked as a public school teacher, school counselor and program director of Christian retreats, environmental education and outdoor adventures. While studying at Anabaptist Mennonite Biblical Seminary, Brian served as interim campus pastor at Goshen (IN) College. He enjoys mentoring and encouraging young adults, leading music and worship, and participating in retreats of all types. He is energized by chaplaincy, spiritual mentoring, bluegrass, folk, roots and world music, contra dancing, hiking in beautiful natural settings, gardening and almost everything water-related.
Strengths Finder: adaptability, harmony, maximizer, responsibility, arranger
Spiritual Gifts: administration, support, service
Training
Gestalt Pastoral Care Foundation Training, 2020-2021
Trauma, Resilience and Healing in Times of a Pandemic (Summer Peacebuilding Institute), 2020
Mental Health First Aid, 2019
Racial Equity Workshop Phase 1 (Racial Equity Institute), 2019
Strategies in Trauma and Resilience (STAR) Level 1, (Center for Justice and Peacebuilding), 2011
Education
Certificate in Spiritual Direction, Eastern Mennonite Seminary, 2017
Clinical Pastoral Education (CPE), Eastern Mennonite Seminary, 2009
M.Div., Anabaptist Mennonite Biblical Seminary (AMBS), 1998
M.A. in School Counseling, The University of Akron, 1986
B.S. in Education, The University of Akron, 1982
Credentials
Ordination for Ministry, Mennonite Church USA
Allegheny Mennonite Conference, 2020-present
Virginia Mennonite Conference, 2004-2019
Professional Memberships
Spiritual Directors International (SDI)
The Association for Chaplaincy and Spiritual Life in Higher Education (ACSLHE)