Beth Good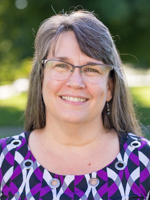 Education
MSN, Widener University (CNS, Public Health Nursing)
BS, Eastern Mennonite University (Nursing Science)
PHD, Widener University (Nursing)
This information has been pulled from J1.
If any of the above information is incorrect please see the instructions for directory updates.
Biography
Beth is a nurse with a PhD in Nursing Science and Research and a Master's in Public Health Nursing. Beth came to EMU in the Fall of 2019 after returning from serving with Mennonite Central Committee (MCC) in Kenya as co-respresentative of the Kenya program.
Beth has extensive experience working internationally and previously worked as the Global Health Coordinator for MCC. She and her family have lived in Kinshasa, DRC (1984-1985), Kenya (1989-2001), Bukavu, DRC (2016-2018), and Kenya (2018-2019). Beth's experience is in the areas of public health in vulnerable settings, trauma healing, sexual gender-based violence, and intercultural awareness and humility.
Beth is ordained and leads the Administrative Leadership Cluster with Virginia Mennonite Conference Faith and Life Committee. She attends Waynesboro Mennonite Church where her husband, Clair is the pastor. Beth has four daughters who all graduated from EMU, four sons-in-law and 8 grandchildren.
Professional Memberships
Date Position Organization
2002-Present Member Sigma Theta Tau
2007-Present Member Christian Connections for International Health
2011-Present Member American Public Health Assn.
2015-Present Coordinating Committee Member Global Anabaptist Health Network
2018-Present Board Member We Rise International
2010-2015 Board President Mennonite Healthcare Fellowship
2010-2015 Member Christian Comm. Health Fellowship
2011-2016 Board Member Community Life Network
2012-2016 Board Chair/Founder River of Life Health Center