Carolyn Stauffer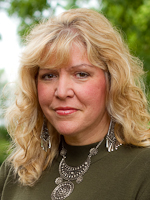 Education
BA, Eastern Mennonite University (Social Work)
PHD, University of the Witwatersrand (Sociology)
MA, Virginia Commonwealth University (Public Administration)
This information has been pulled from J1.
If any of the above information is incorrect please see the instructions for directory updates.
Biography
Carolyn Stauffer has taught at the graduate and undergraduate levels at 2 higher education institutions on the African continent and holds a doctorate in Sociology from the University of the Witwatersrand in South Africa. She lived and worked in Southern Africa (16 years) and the Middle East (17 years). Stauffer has conducted training in Asia, the South Pacific, North America, East and Central Africa, Europe, and the Caribbean. As a veteran in cross-cultural settings, Stauffer is an agile educator who uses both left and right brain educational approaches to engage our postmodern and global world.
Stauffer's research interests include gender-based violence, sexual harms, trauma and resilience, social capital, and intersectionality theory applications. Undergirding Stauffer's academic pursuits is a rich tapestry of work experience in the human service and humanitarian aid arenas. While in the U.S., Stauffer worked in the mental health field in the Shenandoah Valley as well as researching urban demographics amongst marginalized center-city communities in Richmond, Virginia. During her decade and a half in Africa, Stauffer worked under the auspice of MCC, an international relief and development organization with development and emergency assistance training initiatives that took her from the southern-most tip of the continent (Cape Town) to the outlying eastern parts of Uganda (Jinja).
During her time in South Africa, Stauffer worked as an organizational development consultant (with NGOs and blue chip companies undergoing dramatic post-Apartheid workplace diversity shifts), in the domestic and gender-based violence field (as a senior trauma counselor and public relations officer for a rape crisis support center), and as a community development specialist (and founding member of a Soweto-based HIV/AIDS Program servicing AIDS infected or affected communities living in the informal settlements surrounding Johannesburg). Stauffer weaves the depth and breadth of these many and varied experiences into her decade of teaching.
Carolyn is married to CJP professor Dr. Carl Stauffer, and together they have had the privilege of sharing life with their two children. Carolyn is fluent in Hebrew, loves dance, music and art, and enjoys all things creative, imaginative and off the beaten track.
Associate Professor of Applied Social Sciences, Eastern Mennonite University (

EMU

), Harrisonburg VA (3/2017-present)
Co-director – M.A. in Biomedicine Program,

EMU

, Harrisonburg VA (6/2016 – 8/2017)
Leadership Team – M.A. in Biomedicine Program,

EMU

, Harrisonburg VA (9/2014 – 5/2016)
Faculty – Master in Organizational Leadership Program,

MOL

,

EMU

, Harrisonburg VA (6/2015-present)
Faculty – Women's Peacebuilding Leadership Program,

CJP

,

EMU

, Harrisonburg VA (5/2013-present)
Faculty – Dept. of Applied Social Sciences,

EMU

, Harrisonburg VA (1/2010-present)
Scholarly Presentations and Abstracts
Academic Conference Presentations:
"Risk, Resistance, and Resilience: Logics of Help-Seeking Behaviors Among Sexual Harm Survivors"
Towards Healing: Catholic Church Response to Institutional, Clerical and Religious Abuse, Dublin, Ireland (April 10, 2019)


"Sexual Abuse and Truth-Telling: Institutions Under the Spotlight"
International Conflict Resolution Institute (Incore), Ulster University, Belfast, Ireland (April 17, 2019)


"Mirror on a Movement: Restorative Justice and Sexual Violence" Co-presenter
Edward M Kennedy Institute for Conflict Intervention, Maynooth University, Dublin, Ireland (April 11, 2019)
"#MeToo: What Could Institutional Accountability Look Like?"
School of Government - Diana Unwin Chair in Restorative Justice, Victoria University, Wellington, New Zealand (March 22, 2019)
"Intersectional Justice: How Identity Shapes Sexual Violence"
School of Government - Diana Unwin Chair in Restorative Justice, Victoria University, Wellington, New Zealand (March 21, 2019)
"Body Toxic: Tools and Strategies for Addressing Acute or Protracted Sexual Trauma"
Virginia Sexual and Domestic Violence Action Alliance – Annual Conference, Richmond, VA. (May 1 – 4, 2018)
"Structural Holes and Resilience Strategies: A Comparison of Three Domestic Violence Survivor Demographics"
Association for Applied and Clinical Sociology – Annual Conference, Cleaveland, OH (Oct 5 – 7, 2017)
"Body Politics of Abuse in Amish and Conservative Mennonite Households"
Crossing the Line: Women of Anabaptist Traditions Encounter Borders & Boundaries – Conference, Harrisonburg, VA. (June 22 – 25, 2017)
"Mechanisms of Underground Resistance: Patterns of Dissociative Behavior Among Homeless Domestic Violence Survivors"
International Society for the Study of Trauma and Dissociation – Annual Conference, Washington DC (March 30 – April 3, 2017)
"Locked In, Locked Up, or Locked Out: Social Capital Networks as Forms of Resilience Among Battered Undocumented Latinas"
Peace and Justice Studies Association – Annual Conference, James Madison University, VA (Oct 15-17, 2015)
"Visible and Invisible Dissent: The Subversive Actions of Homeless Women Who Are Survivors of Gender-based Violence"
Association for Applied and Clinical Sociology – Annual Conference, Montgomery, AL (Oct 8-10, 2015)
"Rebuilding in the Aftermath of Environmental Disasters: Community Resilience Strategies (co-presenter)
Kumamoto University, Kumamoto, Japan (June 20, 2015)
"Understanding Complex Trauma: Biopsychosocial Interactions" (co-presenter)
Tohoku University, Sendai, Japan (June 16, 2015)
"Bodies as Battlefields: Reimaging Women's Roles in Conflict Zones"
Virginia Social Science Association, Norfolk State University, VA. (March 28, 2015)
"Healthy Sexuality", (co-presenter)
Small College Counseling Association,

EMU

, Harrisonburg, VA. (March 20, 2015)
"Faith and Trauma: Anabaptist Perspectives"
American Islamic College, Chicago, IL. (March 15, 2015)
"A Subversive Shalom: Enacting Radical Peace" (co-presenter)
Intercollegiate Peace Fellowship Conference,

EMU

Harrisonburg, VA. (Feb 1, 2014)
"Gender Mainstreaming in War and Peace: Panacea, Band-Aid, or First Step?"
Virginia Commonwealth University: Women, War & Peace Conference, Richmond, VA. (Sept. 20-21, 2013)
"Christ in the Public Square: Transformational Development?
Calvin College: Faith and International Development Conference, Grand Rapids, MI. (Feb 1-3, 2013)
"The Interplay Between Development and Gender Empowerment Issues: Where to From Here?"
Calvin College: Faith and International Development Conference, Grand Rapids, MI. (Feb 2010)
"Patterns of Social Reciprocity in the New South Africa"
University of the Witwatersrand: Post Graduate University Colloquium, Johannesburg, South Africa, (Sept. 4-5, 2009)
"Betwixt and Between: Gauteng's Black Professionals at the Nexus of Contradictory Class Locations?"
University of Johannesburg: Comprehending Class Conference, Johannesburg, South Africa (June 22-25, 2009)


Training & Workshop Presentations:
"Rupture and Repair: Restorative Justice and Family Violence"
One in Four - Sexual Abuse Therapy, Advocacy, and Prevention Organization, Dublin, Ireland (April 11, 2019)


"Disrupting Ripple Effects: Equipping Providers with Trauma-Informed Practices"
Restorative Justice and Victim Services Office - Irish Probation Services, Dublin Ireland (April 10, 2019)


"Working While Burning? Activating Self-Care Practices in High Burnout Environments"
Training for Virginia Commonwealth Attorney's Office, First Step and Healthy Families Network, VA. (June 6, 2018)


"Post-Traumatic Growth: Service Provider Resilience Training"
6-Week Training Contract grant with First Step, VA. (July 14 – Sept 22, 2017)


"What Does Trauma-Informed Care & Support for Students Look Like?"


EMU

Residence and Student Life Divisions,

EMU

(Aug 4 & 14, 2017)


"Sexual Assault Response Team Best Practices: Culturally Competent Care"
Collins Center – S.A.R.T Task Force, Harrisonburg, VA (May 1, 2017)


"Institutional Harm and Healing: Responding to Sexual Violence"
Facilitation of symposium featuring Father Thomas Doyle & expert panelists,

EMU

All Faculty/Staff Training (November 7, 2016)


"Conversations on Sexual Violence: Cultivating Community Resilience"
Coordination of a Regional Symposium with local and national speakers and 10 concurrent workshop sessions,

EMU

(March 19, 2016)


"Adverse Childhood Experiences Symposium"
Hosted a Transdisciplinary Seminar Weekend on post-traumatic growth,

EMU

(April 10-12, 2015)
Public Addresses:
"Futuring the Victim's Rights Movement: What's Around the Corner?"
Keynote Address, National Crime Victim's Rights Week, Victims of Crime (

OVC

) Grant – First Step, VA (April 12, 2018)
"Silent Violence Project: Surfacing Harrisonburg's Hidden Survivor Communities"
Domestic Violence Task Force, Harrisonburg Police Dept. (Sept 27, 2017)
"Through the Prism of Gender: A Feminist Analysis of War Zones & Peace Fields"
Summer Peacebuilding Institute Luncheon,

EMU

(June 1, 2017)
"Christ and the Politics of Fear: Moving Beyond Anxiety"
Presbyterian Church USA - Forum Leaders Conference, Massanetta Springs, VA (October 5, 2016)
"Give Yourself Away: Generation X at the Cross-roads"
Mennonite World Conference: Global Youth Summit, Keynote Address, PA. (July 19, 2015)
"Peace Building in Intimate Domains: Domestic Violence Unveiled"
Pacific Center for Peacebuilding, Suva, Fiji, (June 5, 2014)
"Truth-telling in Intimate Domains: Domestic Violence Unzipped"


CJP

Summer Peacebuilding Institute – Frontier Luncheon,

EMU

, VA. (May 20, 2014)
"Sex, Power, and Lost Wonder: Re-Imaging the Possibilities"
Speaker, Take Back the Night:

EMU

Chapel Service, Harrisonburg VA. (October 2, 2011)
"The Origins and Impacts of Porn Addiction"
Session for

EMU

Student Women's Association (EMSWA), Northlawn 4th floor, 7:00-9:00 p.m., (March 23, 2011)
"Doing Peace: Here and Now"
Chapel Service, Eastern Mennonite High School, 9:50-10:10 (March 11, 2011)
"The Middle East and Libya"


WHSV

Interview: TV3, 7:00 p.m. News, Harrisonburg, VA. (February 23, 2011)
"Politics and Protest: What's Going on in the Middle East"
Panelist, campus-wide discussion sponsored by

SMRI

and

EMU

's Peace Fellowship,

EMU

Common Grounds (February 23, 2011)
"Land, Labor and Livelihoods: Peoples' Movements in South Africa"
Session for 'Power to the People' - Kennesaw State University Exhibit,

EMU

Common Grounds (November 15, 2010)
"South Africa's Dialogue on Race and Diversity"


EMU

DORD

Chapel, 10:00-10:30 a.m. (November 10, 2010)
"Paradigms of Collective Life: Reflections on the Mennonite and Anabaptist Experience"


ACRS

Seminar,

EMU

Brunk House Conference Rm, 4:00-5:30 p.m. (March 23, 2010)
"Teen Sexuality Unzipped"
South African Department of Education: Keynote Address, National Conference: Life & Love at Schools, Bedfordview, South Africa (September 24, 2009)
"Teen Addiction and Recovery: Mastering the Gauntlet"
Ignite Youth, Johannesburg, South Africa (May 2009)
"Campus Sexuality: Views, Values, and Volition"


WITS

University, Johannesburg, South Africa (March 2009)
Church, Community and Professional Service
Principle Investigator, the Silent Violence project
Reference Group Member New Community Project (

NCP

)
Board Member Valley Aids Network (

VAN

)
Mentor Honors Mentorship Program

EMU

Member Humanitarian Studies Task Force

EMU

Member Faculty Senate

EMU
Honors, Awards and Grants
JustPax grant recipient for the Changing the Narrative project (2019)
JustPax 2-year grant recipient for the Silent Violence Project (2015-2016)
Quality Service Award recipient, Eastern Mennonite University (Third Quarter, 2014)
Release Time recipient, Eastern Mennonite University (Fall, 2013)
Professional Memberships
Member, Association for Applied and Clinical Sociology
Certified Trainer, Appreciative Inquiry, Case Western University
Member, World Future Society, Washington DC
Founding Member, Emthonjeni

HIV

/AIDS Program, Soweto, South Africa
Founding Member, Rape Crisis Support Center, Johannesburg, South Africa
New Courses Taught
Transformational Leadership for Organizational Change, PAX 568, CJP-SPI, Summer 2020
Sexual Harms: Changing the Narrative,

PAX

692,

CJP

-

SPI

, Summer 2018
Transformative Leadership in Dynamic Contexts,

MOL

620, Spring 2018
Leadership Theory,

LOM

420, Fall 2017
Interdisciplinary Seminar,

BMC

611,

BIOMED

program, co-taught Fall 2016
Safe Communities, Safe Homes,

PAX

686,

CJP

-

SPI

, Summer 2015
Introduction to Leadership Studies,

MOL

520, Summer 2015
Biomedicine Practicum,

BIOMED

program, Summer 2014
Transdisciplinary Seminar IV,

BIOMED

program, co-taught Spring 2014
Leadership for Peacebuilding,

CJP

/WPLP program, Summer 2013
Research in Biomedicine,

BIOMED

program, Summer 2013
Sociology of Health,

DASS

, Spring 2013
Biomedicine Seminar I ,

BIOMED

, co-taught Fall 2012
Other courses taught in the past 5 years:
Conflict, Violence and Terrorism,

DASS

(Spring 2011); Introduction to Sociology,

DASS

, (Spring 2011); Environment and Society,

DASS

, (Fall 2010); Social Stratification,

DASS

, (Fall 2010); Theories for Social Change,

DASS

, (Fall 2010); Cultural Perspectives,

ADCP

, (Summer 2010); Food and Population,

BIOL

, (Spring 2010)*