Daniel King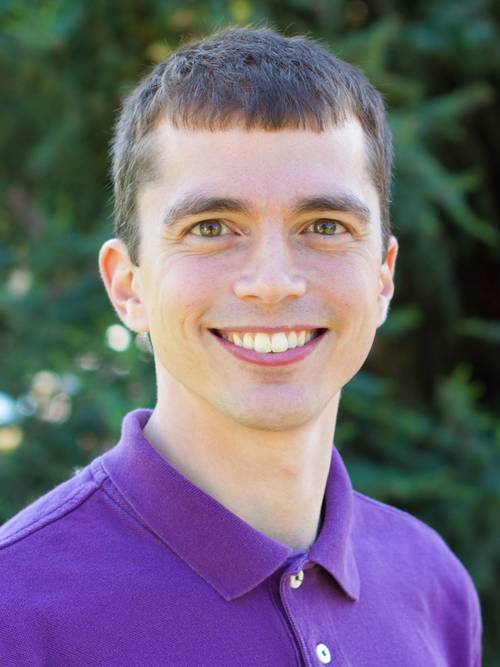 Education
BA, Goshen College (Physics and Music)
PHD, University of Illinois at Urbana (Theoretical and Applied Mechanics)
MS, University of Illinois at Urbana (Theoretical and Applied Mechanics)
This information has been pulled from J1.
If any of the above information is incorrect please see the instructions for directory updates.
Biography
Daniel King graduated with a bachelor's degree from Goshen College, where he majored in Physics and Music. He received his M. S. and Ph. D. degrees in Theoretical and Applied Mechanics from the University of Illinois, where his research focused on the dynamic interactions between ultrasound and contrast agent microbubbles. In addition to bubbles, his broader research interests include acoustics and fluid mechanics. In his spare time he enjoys playing Ultimate, playing board games, and writing quirky little pop songs.
Scholarly Presentations and Abstracts
(Selected)
"A collaborative design project between introductory engineering and physics classes," American Society for Engineering Education Zone II, San Juan, Puerto Rico, March 2017.
"Postexcitation collapse as a characteristic of single ultrasound contrast agent destruction," Acoustical Society of America, Hong Kong, May 2012, Invited.
"Characterization of single ultrasound contrast agent collapse dynamics using postexcitation rebound signals," Ultrasonic Imaging and Tissue Characterization Symposium, June 2011, Washington D.C., Invited.
"Holographic interferometry studies of handbells," National Conference on Undergraduate Research, Lexington, VA, April 2005.
Honors, Awards and Grants
Co-PI: STEM Scholars Engaging in Local Problems, NSF 1741937, 2018-2022. PI: T. L. Kishbaugh, Co-PIs: D. King, J. Tian, S. Cessna, D. Showalter.
EMU Summer Teaching Grant (for New Course Development), Summer 2015 and Summer 2019
Visiting Assistant Professor, Department of Electrical and Computer Engineering at University of Illinois at Urbana-Champaign, Summer 2015
Beckman Institute Senior Fellow, Beckman Institute for Advanced Science and Technology at University of Illinois at Urbana-Champaign, Summer 2014
Finalist in the New Investigator Award Competition, American Institute for Ultrasound in Medicine, Spring 2013.
New Courses Taught
(2019-20)
ENGR 245: Experimental Methods
ENGR 291: Engineering Design II
ENGR 325: Engineering Ethics
ENGR 370: Strength of Materials
ENGR 490 / 491: Senior Design and Capstone Project
MATH 154: Mathematics for Engineering
PHYS 252 / 253: University Physics I Lecture and Lab
PHYS 262 / 263: University Physics II Lecture and Lab
STEM 219: STEM Practicum

(2018-19)
ENGR 265: Analog Circuits
ENGR 291: Engineering Design II
MATH 144: Precalculus
MATH 154: Mathematics for Engineering
MATH 310: Differential Equations
PHYS 252 / 253: University Physics I Lecture and Lab
PHYS 262 / 263: University Physics II Lecture and Lab
STEM 219: STEM Practicum
EMU Service
(2019-20)
Institutional Research Board (IRB) Committee Member
Pre-Professional Health Sciences (PPHS) Advisory Committee Member
Library Committee Member
Faculty Advisor for Astral Society