Daniel Ott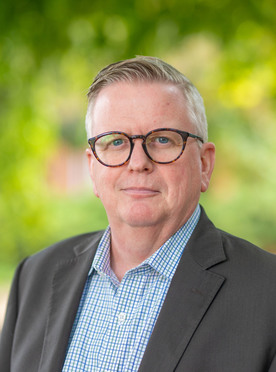 Education
PHD, Claremont Graduate University (Religion and Theology)
MDIV, Louisville Presbyterian Theological Seminary (Religion)
BM, West Virginia University (Music)
This information has been pulled from J1.
If any of the above information is incorrect please see the instructions for directory updates.
Biography
Dan Ott serves as dean and professor of theology and religion in the School of Theology, Humanities, and Performing Arts at EMU. Dr. Ott formerly served as Associate Dean for Academic Initiatives, professor of religious studies, and chair of the Department of Philosophy and Religious Studies at Monmouth College in Illinois.

Ott has over seventeen years of experience in teaching, scholarship, and administration. His administrative work includes curriculum and program development, grant writing and directing, and diversity, equity, and inclusion initiatives. Ott's scholarship is in the areas of religious thought in the United States, philosophies of peace and nonviolence, and Christian liberal theologies, especially process and pragmatic theologies.

Professor Ott earned the Ph.D. from Claremont Graduate University in the philosophy of religion and theology, a Masters of Divinity from Louisville Presbyterian Theological Seminary, and a Bachelor of Music from West Virginia University. He is an ordained teaching elder in the Presbyterian Church (USA).