Sarah Bixler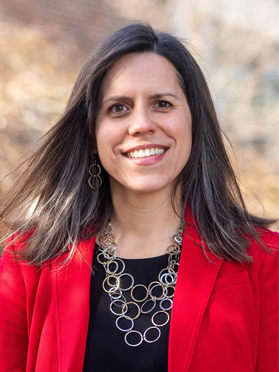 Education
BA, Eastern Mennonite University (English)
MDIV, Princeton Theological Seminary (Dvinity)
PHD, Princeton Theological Seminary (Practical Theology/Christian Education)
This information has been pulled from J1.
If any of the above information is incorrect please see the instructions for directory updates.
Biography
Rev. Dr. Sarah Ann Bixler teaches courses in formation and practical theology at Eastern Mennonite Seminary, and youth ministry in EMU's undergraduate Bible, Religion and Theology program. She holds a PhD in practical theology from Princeton Theological Seminary with an emphasis on Christian education and formation. While at Princeton, she worked in administrative roles to launch the Center for Church Planting and Revitalization and Iron Sharpening Iron: Leadership Education for Women Clergy project. Dr. Bixler is currently working on a book drawn from her dissertation, advised by Dr. Kenda Creasy Dean, utilizing attachment theory to understand and respond to the paradox of adolescent happiness without belonging in religious communities.
With more than a decade of ministry and teaching experience, Dr. Bixler is deeply committed to both robust scholarship and the ongoing formation of faith communities. Her background includes work as a youth minister at Zion Mennonite Church (Broadway, VA), teacher at Eastern Mennonite Middle School and administrator and youth minister for Virginia Mennonite Conference, and she currently serves in Virginia Mennonite Conference and Mennonite Church USA leadership roles. She and her spouse, Benjamin Bixler, enjoy parenting their three school-aged children, are stewarding the historic Lincoln Homestead as their home in Linville, VA and are active members of Park View Mennonite Church.
Mission Statement
With the normative commitment that theology is lived in community, Rev. Dr. Bixler's scholarship and interactive pedagogy engage Christian formation from an Anabaptist perspective in service of fostering a greater understanding and love of God, self and others.
Scholarly Presentations and Abstracts
"Friends in Crisis: Rediscovering Early Anabaptist Leaders within a Catholic Friendship Tradition." Nov. 21, 2022. American Academy of Religion annual meeting, Denver, CO.
"Networks of Belonging: Adolescent Attachment in Congregations." July 13, 2022. International Association for the Study of Youth Ministry biennial conference, Atlanta, GA.
"Historical Restor(y)ation at the Lincoln Homestead." February 15, 2022. HIST 422: U.S. History, 1789-1848, James Madison University, Harrisonburg, VA.
­­"Networked Bonds: An Attachment-Informed Vision for Spiritual Friendship." Nov. 22, 2021. American Academy of Religion annual meeting, San Antonio, TX.
"Reimagining Youth Ministry through an Attachment Ecclesiology." April 21, 2021. Institute for Youth Ministry Research Gathering, Princeton Theological Seminary.
"'Musing on Cicero's Thoughts': Methodology in Aelred of Rievaulx's Practical Theology of Spiritual Friendship." December 10, 2020. American Academy of Religion annual meeting.
"A Great Co-mission: Heeding Women's Problematization of 'Teaching Them.'" December 1, 2020. Society of Biblical Literature annual meeting.
"Congregation as Safe Haven and Secure Base? Youth Ministry from An Attachment Perspective." January 3, 2019. International Association for the Study of Youth Ministry conference, Durham, UK.
"Attachment to Religious Group: A New Interdisciplinary Conception of Adolescents in Congregations." August 12, 2018. Association for the Sociology of Religion annual conference, Philadelphia, PA.
Other Presentations
"Great Expectations? Rejoicing and Mourning in One Body." May 30, 2022. Mennonite Church USA Delegate Assembly, Kansas City, MO (with Malinda Berry).
"From Servant to Friends." February 6, 2021. Virginia Mennonite Conference winter delegate session, Harrisonburg, VA.
"Christian Formation throughout the Life Course." July 19, 2019. Virginia Mennonite Conference Assembly, Harrisonburg, VA.
"Unexpected Encounters: God Surprises." February 1-3, 2018. Mennonite Educators Conference, Leesburg, VA.
"Youth Attachment to God and the Church: Should the Church Act Like Fly Paper?" May 17, 2017. The Gathering Place, Mennonite Church USA, Elkhart, IN.
Church, Community and Professional Service
Ministry Leader of the Teaching Cluster and Faith and Life Commission member. 2021-present. Virginia Mennonite Conference, Harrisonburg, VA.
Resolutions Committee. 2020-present. Mennonite Church USA, Elkhart, IN.
Membership Guidelines Advisory Group. 2019. Mennonite Church USA, Elkhart IN.
Prayer Coordinator. 2019. Mennonite Church USA biennial convention, Kansas City, MO.
Missional Formation Cohort Co-Convener, with Dr. Lisa Bowens. 2018-19. Princeton Theological Seminary, Princeton, NJ.
Journey Forward: Embracing God's Hope Writing Team. 2017-19. Mennonite Church USA, Elkhart, IN.
Educational Standards Working Group. 2017-18. Association of Theological Schools Accreditation, Princeton Theological Seminary.
Pastoral Transition Team. 2017. Oxford Circle Mennonite Church, Philadelphia, PA.
Adult Worship Planning Committee Chair. 2015-17. Mennonite Church USA biennial convention, Orlando, FL.
Alumni Association President. 2011-13. Eastern Mennonite University.
Honors, Awards and Grants
External Resource Matching Grant for Eastern Mennonite Seminary. July 2022. In Trust Center for Theological Schools, Wilmington, DE.
Wabash Consulting Grant for Eastern Mennonite University in intercultural and interreligious education (with Dr. Tim Seidel). July 2022. Wabash Center for Teaching and Learning in Theology and Religion, Crawfordsville, IN.
Pathways for Tomorrow Phase 2 Grant for the Penuel Project at Eastern Mennonite Seminary (primary writer). June 2022. Lilly Endowment Inc., Indianapolis, IN.
Research Grant in Anabaptist-Mennonite Studies. July 2020. Mennonite Historical Society, Goshen, IN.
Princeton Theological Seminary Doctoral Fellowship and Ph.D. Merit Tuition Scholarship. 2016-21. Fully funded program with tuition and stipend for 5 years, awarded to 10 students annually.
Louisville Institute Doctoral Fellowship. 2017-19. Two-year fellowship awarded annually to 10 doctoral students showing promise for teaching and scholarship in theological education.
Arthur Paul Rech Memorial Award in Theology and Pastoral Ministry. 2016. Awarded annually to one Princeton Seminary senior demonstrating academic excellence in practical theology and a personal commitment to the practice of ministry in the church.
William Tennent Scholarship. 2015. Awarded annually to one rising senior at Princeton Seminary showing special interest and ability in the teaching aspects of the work of the church.
Marguerite Young Endowment Fund Scholarship. 2015. Scholarship for select Master of Divinity students, granted by the Pittsburgh Foundation.
Courses Taught
Theological Reflection on Trauma
Introduction to Youth Ministry
Seminar in Youth Ministry
Teaching for Christian Community
Pastoral Care
Formation in God's Story I and II
Formation in Ministry I and II
Formation in Missional Leadership I and II