Marci Frederick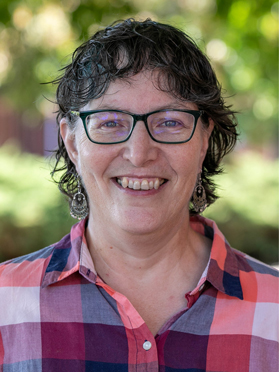 Education
MA, University of Wisconsin-Madison (MLIS)
This information has been pulled from J1.
If any of the above information is incorrect please see the instructions for directory updates.
Biography
Marci began as Hartzler Library Director in 2015. She holds an M. L. I. S. from the University of Wisconsin-Madison and additional Master's degrees in Philosophy (Institute for Christian Studies) and American History (University of Wisconsin-Madison). She also holds a certificate from the Journey Leadership Development program of Anabaptist Mennonite Biblical Seminary.
She previously served as director of two liberal arts college libraries and one graduate school library.
Her publications include "Doing justice in history: using narrative frames responsibly," in History and the Christian historian, edited by Ronald Wells (Grand Rapids: Eerdmans, 1998), 220-234; "Beware of book lust," Catapult magazine 12:15 (July 19-September 5, 2013); and numerous devotional pieces and hymns.
In addition to service to the Mennonite Church at congregational and conference levels, Marci has served on numerous boards and committees, including the City of Harrisonburg's Bicycle & Pedestrian Subcommittee, Edmonton Mennonite Centre for Newcomers and the Toronto Theatre Organ Society. She is a regular guest preacher in churches of several denominations.
Her many interests include Biblical studies, Black Gospel music, feminist philosophy and theology, social justice in librarianship, and the histories of reading and of radio broadcasting.
She lives with her husband, Paul Cook, an artist, and child Blue Cook.
Mission Statement
I like to bring people together to create community around ideas, sharing resources to nurture deep reflection. My calling as a library director is to bring a focus on EMU's mission into ongoing conversations about the community's information needs.