Vernon Jantzi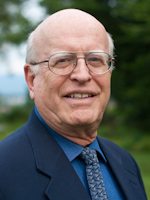 Education
BA, Eastern Mennonite University
MS, Cornell University
PHD, Cornell University
This information has been pulled from J1.
If any of the above information is incorrect please see the instructions for directory updates.
Biography
Dr. Jantzi's expertise went beyond his home base of the sociology and social work department to EMU's Center for Justice & Peacebuilding, which he helped establish in the mid-1990s and served as director for seven years. He also taught courses in language, religion, business and history. He has extensive experience in international development, particularly in dealing with conflicts generated by the developmental process and those related to natural resources. His doctoral studies were in the sociology of development with concentrations in linguistics and Latin American studies.
Jantzi came out of retirement to serve as EMU's interim vice president and undergraduate academic dean, 2009-2010. He continues to work as a consultant to development programs in Latin America and the Caribbean.