Jenni Holsinger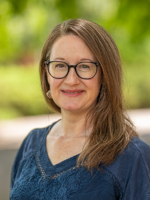 Education
BA, Seattle Pacific University (Psychology)
MA, University of Washington (Sociology)
PHD, University of Washington (Sociology)
This information has been pulled from J1.
If any of the above information is incorrect please see the instructions for directory updates.
Biography
Jenni Holsinger received her PhD in sociology from the University of Washington and her undergraduate degree from Seattle Pacific University. As an associate professor in the Department of Applied Social Sciences she teaches courses on environment and society, research methods, social movements, and stratification. Jenni's research interests include demography and migration, environmental sociology, race and ethnic relations, and urban sociology. Her current research involves a quantitative approach to understanding environmental inequity and the immigrant experience. Jenni enjoys accompanying students on study abroad trips and adventures with her family.
Scholarly Presentations and Abstracts
"Loving Our Neighbor(hoods)." Mennonite Higher Education Faculty Conference, Conrad Grebel University College, Waterloo, ON, 2014.
"Advantage or Disadvantage? The Residential Experience of Arab Americans." Paper presented at the Middle Eastern Diasporas: (In)visible Minorities Conference, Council on Middle East Studies, Yale University and Middle East and Middle Eastern American Center, Graduate Center, City University of New York, New Haven, CT, 2005.
"The Segregation Of Arab Americans: A Question Of Assimilation." Paper presented at the Annual Meeting of the American Sociological Association, San Francisco, CA, 2004.
"Perceptions of Racial Discrimination Among High School Seniors in Tacoma." Paper presented, Annual Meeting of the Pacific Sociological Association, Vancouver, B.C., 2002.
Church, Community and Professional Service
Reviewer for Sociological Forum, American Sociological Review, Journal of Hate Studies, Norton Press
EMU Service
Faculty representative, Mennonite Sociology Collaborative Management Oversight Board, 2014-
Faculty representative, Oregon Extension Academic Governance Committee, 2014-
Faculty representative, Shenandoah Valley Regional Center of Expertise on Education for Sustainable Development, 2014-