Ken L. Nafziger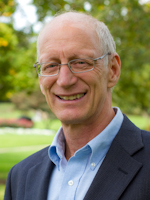 Education
BA, Eastern Mennonite University
MA, University of Illinois at Urbana-Champaign
PHD, University of Illinois at Urbana-Champaign
This information has been pulled from J1.
If any of the above information is incorrect please see the instructions for directory updates.
Biography
As Vice President for Student Life since 2003, Dr. Ken L. Nafziger serves as a member of the President's Cabinet and the Provost's Council. He works with the following eight departments in Student Life comprised of approximately 40 staff: athletics, campus ministries, counseling, career services, health services, housing and residence life, multicultural and international student services, and student activities (Common Grounds, fitness center, recreational sports, game room). He believes that the kind of learning that takes place outside of the classroom is as important as what is learned in the classroom. He is committed to holistic student development: intellectually, socially/emotionally, physically, and spiritually. He enjoys advising the Student Government Association and running regularly as well as biking to work whenever weather allows. His life's verse chosen as a senior at Lancaster Mennonite is Psalms 16:11 (You will show me the path of life, in your presence is fullness of joy, at your right hand there are pleasures forevermore.). That path brought him full circle back to EMU in 2003 after graduating with his bachelor's degree in math, psychology, and secondary education in 1979.
Prior to coming to EMU, Dr. Nafziger was employed at Penn State University (1997-2003) as the assistant director of the Center for Counseling and Psychological Services and an affiliate faculty member in counseling psychology. He was a staff psychologist at the University Counseling Services at the University of Iowa (1994-97) where he also completed his pre-doctoral internship with a year-long rotation in out-patient psychiatry at the University of Iowa Hospitals and Clinics. While completing his doctorate at the University of Illinois at Urbana-Champaign, he worked for the United Methodist Church providing counseling for UMC ministers and their family members in central and southern IL, and was employed as an instructor and graduate assistant at the University of Illinois. Before attending graduate school, he served with Eastern Mennonite Missions (1983-86) as a teacher of math, English, and African Literature in a Kenya Government secondary school and as a teacher (1979-83) of math and head coach of cross-country and boys and girls' indoor and outdoor track and field at Broadway High School (VA).
He is married since 1985 to Judy Nafziger (EMU, '81) who is a registered nurse at Rockingham Memorial Hospital. They have three emerging-adult children: Rachel, Dan, and Matt.
New Courses Taught
College Writing for Transitions: Transitions Sections (Fall '08 – Fall '11, Fall '14-Present)
LARTS 181: Global Connections (Fall 2012, 2013)