Katie Mansfield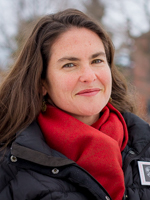 Education
MS, University of Notre Dame (International Peace Studies)
BA, Harvard University (History)
This information has been pulled from J1.
If any of the above information is incorrect please see the instructions for directory updates.
Biography
Katie Mansfield is the Lead Trainer for the Strategies for Trauma Awareness and Resilience (STAR) program within Eastern Mennonite University's Center for Justice and Peacebuilding.
In 2020, she completed and defended her doctoral dissertation, entitled Re-friending the Body: Arts-based, Embodied Learning for Building Resilience. In addition to exploring expressive arts-based, embodied learning, her research required a deep look into whiteness, power oblivion, and shadow. Her doctoral work in Expressive Arts and Conflict Transformation from the European Graduate School (Switzerland) was supervised by Dr. Sally Atkins, with additional committee members Dr. Ram Bhagat and Dr. John Paul Lederach.
Also in 2020, with the onset of the pandemic, Katie started dancing five times a day, inspired by Muslim (and Catholic Worker) commitment to prayer five times daily and Alice Walker's assertion that "hard times require furious dancing." All are welcome to join at Dancing Resilience on facebook. (As of August 2022, we're still dancing - about 3x a day, 6 days a week.)
Now more than seven years into living in Virginia, Katie has learned to grow some of her own food, and she's thankful to be part of the advisory board of the Drums No Guns Foundation.
Before joining STAR, Katie worked with Mennonite Central Committee Kenya for three years as peacebuilding coordinator. Previously she worked with Notre Dame's Kroc Institute, researching, writing, planning and network building with initiatives in Colombia, Argentina, Thailand and Nepal and linking Kroc's alumni network. She also worked with CDA Collaborative Learning Projects' Listening Project and engaged in peace education work in Davao (Mindanao), Boston, and Delhi. Prior to working in peacebuilding, she worked for eight years with a major multi-national bank in New York and London.
Katie completed her M.A. in International Peace Studies (Kroc Institute) in 2008 and her AB in History at Harvard University in 1996. She has also completed teacher trainings in yoga and healing dance. She studied personal embodiment for three intensive months at the Tamalpa Institute in California in 2014, and she completed a two-year training in Integrative Energetic Medicine with the Whitewinds Featherstone Institute in 2017.