Renee Leap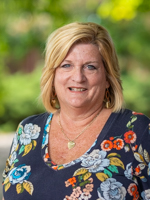 Education
BS, Eastern Mennonite University (Middle Education)
This information has been pulled from J1.
If any of the above information is incorrect please see the instructions for directory updates.
Biography
Renee began her employment at EMU in 1986 as receptionist in the Financial Assistance Office. Since then she has held several different positions including; student employment coordinator, office coordinator, and assistant director. In 2002 she was named associate director.
Other Presentations
"Finding Money for College," EMHS Senior Seminar
"How My Faith Informs My Work," EMU Staff Development, March 2008
Church, Community and Professional Service
Senior youth group adult sponsor, Harrisonburg Mennonite Church, 1996-2004
Youth Pastor Search Committee Chair,

HMC

, 2003
Personnel Committee member,

HMC

, 2006-2010
Adult Sunday School team leader,

HMC

, 1994-96, 2007-09, 2011-13
Communications Team member,

HMC

, 2006-2009
Church Council,

HMC

, 2013-2016
Booster Club member,

EMHS

, 2006-2009
Spring Extravanganza, Soup & Arts Fest committees,

EMHS

, 2005-2008
EMU Service
Council on Diversity Initiatives, 2003-2007
Quality Service Award Committee, 1999-2001
Honors Program student mentor, 1999-2003
FYE/ Transitions group leader, 1997-2002, 2013-15
FCA Faculty/Staff Advisor 2015-16
Title IX Hearing Board member 2015-16