Lindsay Martin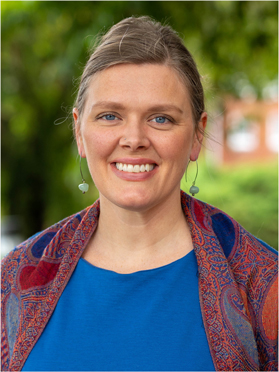 Education
BA, Eastern Mennonite University
JD, University of Pennsylvania Law School
This information has been pulled from J1.
If any of the above information is incorrect please see the instructions for directory updates.
Biography
Lindsay Martin grew up in Harrisonburg and then in Salem, Oregon, returning to Harrisonburg to attend EMU and graduating in the Class of 2005. After college, she spent two years in Mennonite Voluntary Service in San Francisco, and then attended law school at the University of Pennsylvania in Philadelphia. Her focus in law school was on civil rights and indigent criminal defense, and she spent a year clerking in the Eastern District of Pennsylvania for a federal district judge.
In 2012 Lindsay returned to Harrisonburg to work at EMU's Center for Justice & Peacebuilding, as Assistant to the Executive Director and Program Coordinator for the Zehr Institute for Restorative Justice. In 2015 she began her current role as Associate Director of Development for the Center for Justice and Peacebuilding. Lindsay visits with alumni and stakeholders across the country who are interested in the work of CJP.
As of 2017, Lindsay also relates to EMU alumni and stakeholders in her favorite region of the country, the Pacific Northwest.
Lindsay lives in Harrisonburg with her husband, Nathan Musselman, their sweet kiddos, Fox and Willow, and their delightful puppy, Maggie. She enjoys cooking, gardening, hiking and sci fi.
Church, Community and Professional Service
Board member, Friendly City Food Co-op
November 2015 to present