Loren Swartzendruber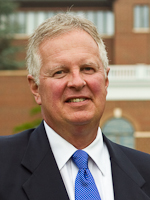 Education
BS, Eastern Mennonite University
MA, Eastern Mennonite Seminary (Divinity)
DMIN, Northern Baptist Theological Seminary
This information has been pulled from J1.
If any of the above information is incorrect please see the instructions for directory updates.
Biography
President Swartzendruber grew up in Kalona, IA. After graduating Iowa Mennonite School he came to EMU for one year and then transferred to the University of Iowa School of Pharmacy. Loren is married to Pat Swartzendruber and they returned to Harrisonburg in 1973 for Loren to begin seminary studies. During his seminary years he worked for Inter-Church, Inc., (Myron Augsburger's preaching missions), and in the admissions office of EMU. From 1978 to 1983 Loren pastored the Salford Mennonite Church (Harleysville PA), 1983-1993 served as associate executive secretary of the former Mennonite Board of Education, and 1993-2003 president of Hesston College (KS). Pat and Loren are parents of four married children. Pat completed a three-year R.N. program at Mercy Hospital School of Nursing, a B.A. at Eastern University, and the M.S. in administration at the University of Notre Dame. She served as vice president for administration with Mennonite Board of Missions and executive vice president of Prairie View Behavioral Health System. She currently does some consulting with non profit organizations and spends most of her time as a volunteer in the president's office at EMU.
Church, Community and Professional Service
President, Eastern Mennonite University, Harrisonburg VA, 2003-
Board member (2004 to present) and chair (2009-2010), Council of Independent Colleges in Virginia
Board member, Evangelical Environmental Network (2012 to present)
Board member, Council for Christian Colleges and Universities, 2013 to present
Board member, Southern Association of Colleges and Schools Commission on Colleges, 2014 to present
Member and secretary, Kansas Independent College Association, 1993-2003.
President, Hesston College, Hesston KS, 1994-2003
Associate director of admissions, Eastern Mennonite University, 1976-78
Associate campus pastor, Eastern Mennonite University, 1976-78
Pastor, Salford Mennonite Church, Harleysville, PA, 1978-83
Chair, Franconia Mennonite Conference Mission Commission, 1979-83
Member, Franconia Mennonite Conference Council, 1979-83
Board member, Penn View Christian School, 1981-83
Associate executive secretary, Mennonite Board of Education, Elkhart, IN 1983-93
Elder, Southside Fellowship, 1989-93
Member, Harvey County (Kan.) Historical Society, 1991-93