Linda Witmer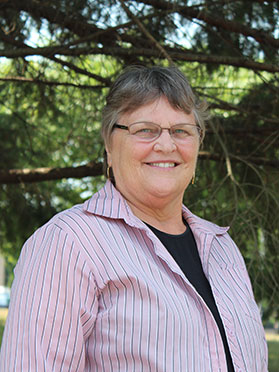 Education
BS, Eastern Mennonite University (Nursing)
MDIV, Lancaster Theological Seminary
MPH, University of North Carolina at Chapel Hill (Public Health: Maternal & Child Health)
This information has been pulled from J1.
If any of the above information is incorrect please see the instructions for directory updates.
Biography
Linda is the Director of the RN-BS in Nursing program. She has 17 years of college-level teaching experience. The courses she has taught are: Community Health, Cultural Perspectives, Family Health, and Global Trends in Health. Linda has 23 years of international experience, serving under both Mennonite Central Committee and Eastern Mennonite Mission with the K'ekchi' Maya in Guatemala. She was program coordinator for the health, development, and church programs. Linda trained village health workers, lay dental workers, and lay midwives. She worked with the K'ekchi' leaders to initiate the Bezaleel Education Center, a highschool for K'ekchi' youth and a land project for landless K'ekchi'. Her work as a community health nurse in Coatesville, PA led to the initiation of Bridge of Hope,Inc. a non-profit organization serving homeless women and children. At EMU she helped initiate the School Nurse certification/MSN, developed a continuing education program for nurses and coordinates Faith Community Nurses in S. Central PA. Linda enjoys hiking, nature, photography, and art.
Scholarly Presentations and Abstracts
Other Presentations
*August 12, 2015 Spiritual Health For Faith Community Nurses, EMU Lancaster
*July 19-21, 2015 Engaging Congregations in Health Ministries, Mennonite Health Fellowship Annual Gathering 2015, Harrisburg, PA
*2014 to 2017 Co-facilitator, weekend retreats, Kairos School of Spiritual Formation, Lancaster, PA
*2014 to 2018 Advent and Lent day retreats, Kairos School of Spiritual Formation, Lancaster, PA
*May 2017 The Founding of Bridge of Hope, Annual Fundraising Banquet, Harrisonburg, VA *2018-2020 Retreat leader, Mariawald Retreat Center, Reading, PA
Church, Community and Professional Service
Church
Laurel Street Mennonite Church, Lancaster, PA
Deacon, leader of a small group
Leadership Team - chair
Board Member
2011 – 2016 – Kairos School of Spiritual Formation, chair
2001 – present – Fundameno

USA

Board
2010 – present – Faith-Based Health Ministries Network, chair
Planning Committee
*2018 WellSpan Health Collaborative EBP and Nursing Research Conference
Honors, Awards and Grants
2019 Faith Communities Improving Outcomes in Mental Illness and Addictions, Legacy Foundation Grant
Certifications and Licenses
RN license
Certified Faith Community Nurse
Certified Spiritual Director
Professional Memberships
American Public Health Association
Mennonite Health Fellowship
Spiritual Directors International
Professional Conferences Attended
*1/18/18 Conflict Transformation, EMU Lancaster
*2/23/18 Lancaster Learns, PA College of Health Sciences, PA
*2/15/18 End of Life Planning – Green and Traditional Burial Options and Organ Donation, EMU Lancaster
*3/10/18 Recognizing and Reporting Child Abuse: Mandated Reporting in PA, University of Pittsburg, PA
*4/19/18 WellSpan Health Collaborative EBP and Nursing Research Conference *11/2/19 The Soul of Shame, EMU Lancaster *1/24/20 The Cloud of Depression, EMU Lancaster