Mark Metzler Sawin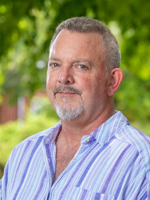 Education
BA, Goshen College (English & Political Science)
MA, University of Texas at Austin (American Studies)
PHD, University of Texas at Austin (American Studies)
This information has been pulled from J1.
If any of the above information is incorrect please see the instructions for directory updates.
Biography
Mark Metzler Sawin grew up in Hesston, a small town in rural Kansas. He earned a B.A., studying Literature and Politial Science at Goshen College (Indiana) and then, after a stint training as a chef and doing free-lance journalism, he earned his M.A. (1997), and Ph.D. (2001) in American Studies at the University of Texas at Austin. in 2001 Mark joined Eastern Mennonite University as a professor of U.S. history. He currently also serves as the co-director of EMU's Honors program and has served as the chair of the History and Political Science program, and as president of the Faculty Senate. In the larger academic world, Mark has served as a member and chair of the Regional Chapters Committee of the American Studies Association; as president and a board member of the Eastern American Studies Association; and as area chair of American Studies for the Mid-Atlantic Popular and American Culture Association. In 2008-09 Mark was a Fulbright Scholar at the University of Zagreb, Croatia; he has remained connected there, returning to teach courses in 2017 and 2019. His scholarship focuses largely on the religious, literary, and popular culture of antebellum America (1840–1850s). His first book Raising Kane addresses Arctic explorer Elisha Kent Kane who in the 1850s authored two "best-selling" books about his travels while masterfully manipulating the popular media to enhance his celebrity status. His most recent books are annotated editions of popular 19th-century author Ned Buntline's early novels: the Mexican-American War story, The Volunteer; or, the Maid of Monterey (1847); and the pirate tale, The Black Avenger of the Spanish Main (1847). These are the first in a series of 19th-century popular fiction that he is editing via his newly founded Emu Editions publishing effort. Mark also works on local African American history projects, recently editing The Way it Was... Coming of Age in Harrisonburg, VA in the Jim Crow Era: The Memoirs of Doris Harper Allen, and, with JMU professor Gianluca De Fazio, writing an article "The 1910 Legal Lynching of Pink Barbour in Harrisonburg, Virginia" which is currently under review.
Mark is married to Erika Metzler Sawin, a nursing professor at James Madison University. They have two children.
Scholarly Presentations and Abstracts
Presentation "The 1910 Legal Lynching of Pink Barbour in Harrisonburg, Virginia" with Gianluca DeFazio. James Madison University Africana Studies Workshop, Online (April 2022)
Presentation "The 1939 Gay St. Mission Photograph: Newtown, Mennonites, and the Life of Doris Harper Allen." James Madison University African, African American, and Diaspora Studies Conference, Online (Feb. 2022)
Presentation "Mapping Memory: Visualizing Harrisonburg Virginia's Jim Crow Past." Mid-Atlantic Popular and American Culture Association, Online (Nov. 2021)
Presentation "Amusing the Masses: Ned Buntline and the Democratization of Antebellum American Literature." Eastern American Studies Association (Spring 2020—cancelled for COVID)
Presentation "Lynched Man Writing: Ned Buntline and the Rise of America's Popular Press." Mid-Atlantic Popular and American Culture Association, Pittsburg, PA (Nov. 2019)
Keynote Address "Pick-Uppity: A New Cultural Frontier for a Threatened Masculinity." Anglophonia: New Frontiers Conference, University of Zagreb, Croatia (May, 2019, Invited)
Panelist "Frontier Societies." Anglophonia: New Frontiers Conference, University of Zagreb, Croatia (May, 2019, Invited)
Presentation "Masculinity and the Triumph of the Truck: Currents in the American Automotive Industry." Eastern American Studies Association, Harrisburg, PA (March 2019)
Presentation "Learning from Ned Buntline" with Students. Mid-Atlantic Popular and American Culture Association, Baltimore (Nov. 2018)
Presentation "Like a Rock?: The Pickup Truck & American Masculinity" University Colloquium Series, Eastern Mennonite University (Jan. 2018)
Presentation "Pickup Truck? Hell Yes!: The Truck as Cultural Dissent in American Suburbia" International Symposium, A Cultural History of Capitalism: Britain, America, Croatia, University of Zagreb, Croatia (April, 2017)
Panelist "Where American Studies is at Home/not Home: Working in Different Disciplinary and Professional Contexts." American Studies Association. Denver, CO (Nov. 2016)
Exhibits, Performances and Productions
Public Presentation "Mennonite Higher Ed & a Brief History of EMU" Lifelong Learning Institute (April 2022)
Public Presentation "The Friendly City?: Two Harrisonburg Stories of Race and Reputation" Valley Village Aging in Community Group (April 2022)
Public Presentation "Violence Silenced: The Legal Lynching of Pink Barbour in Harrisonburg in 1910" Eastern Mennonite University MLK Day of Service (February 2022)
Public Presentation "A History of Discussing LGBTQ+ Issues at Eastern Mennonite" EMU SGA Sponsored event (May 2021)
Public Presentation "Authoritarianism and the Christian Right (& Left?)" Community Mennonite Church (May 2021)
Public Presentation "Remembering Our Heritage?: A Monumental Debate (Race in the Trump Era)" Eastern Mennonite University MLK Day of Service (February 2021)
Public Presentations "The Stories of Harriet Tubman and Rosa Parks" Community Mennonite Church (December 2020 and January 2021)
Public Presentation "Traumatic Times: An Historical Reflection" for Imagining the Future after COVID-19 mini-course (July 2020)
Public Presentation "Race in the United States: A Very Brief History in Black & White" Mennonite Central Committee IVEP Program (Feb. 2020)
Chapel "Where Have We Been? Where Are We Know?: A History of Racial Relations at Eastern Mennonite" Eastern Mennonite High School (MLK Day, 2020)
Public Presentation "Pickups: An American Obsession" to multiple Rotary clubs & civic organizations across central Virginia (fall 2017-summer 2019)
Public Presentation "A Wall Runs Through It: The History of U.S. Immigration Policy" Anabaptist Center for Religion & Society (March 2019)
Public Presentation "Remembering the Confederacy: A Monumental Debate" Eastern Mennonite University MLK Day of Service (MLK Day, 2019, & 2020)
TV Appearance 1-on-1: Remembering EMU Graduate Murdered in Congo. WHSV TV Harrisonburg, VA (March 2018)
Public Presentation "The History of our Holiday Celebrations: Thanksgiving & Christmas" Park View Village (Nov. 2017)
Public Presentation "Remembering and Re-Remembering the Past" National Honors Society Induction Ceremony, Spotswood HS (Oct. 2017)
Public Presentation "Shifting Paradigms Shifting Power: Diversity and the Creation of a New Radical Anabaptist Community" with Melody Pannell. EMU Faculty/Staff Conference (August 2017)
Radio Appearance "A Discussion of Elisha Kent Kane, American Hero." Mike Slater Show AM 760 San Diego, CA (June 2017)
Public Interview with Civil Rights leader Dr. Vincent Harding Eastern Mennonite University (Feb. 27, 2014)
Chapel "Take the First Step in Faith: A History of Change Toward Inclusion at Eastern Mennonite" Eastern Mennonite University (Jan. 17, 2014)
TV Appearance Survey Questions How Challenging College Has Become.

WHSV

TV Harrisonburg, VA (May 2012)
Baccalaureate Address: "Wisdom & Vanity: A Teacher's Parting Words". Eastern Mennonite University (April 2012)
Church, Community and Professional Service
Community & Professional Service
Mid-Atlantic Popular & American Culture Association area co-coordinator for American Studies (2018-present)
Eastern American Studies Association Executive Committee (2004-present)
Visiting Professor, University of Zagreb, Croatia (Spring 2017 & 2019)
American Studies Association Regional Chapters Committee (2009-2018)
American Studies Association Turpie Prize Committee for Excellence in American Studies (2013-2018)
Conference Coordinator & Moderator, "Centennial Histories Symposium. The Usable Past: Mennonite Higher Education in Review." Organized and moderated this gathering of the authors of the five Mennonite colleges' centennial histories. A Marpeck Fund event (March 2018)
Breneman-Turner Mill Committee, Rockingham County, VA (2010-2017)
Co-Instructor, "Back to the Fifties!" 6-part course for the Lifelong Learning Institute, James Madison University (March-April 2016)
Article Referee, Arctic: The Journal of the Arctic Institute of North America (2014)
Conference Coordinator, Eastern American Studies Association 2013 conference "E Pluribus Unum?: Unity, Division & the Making of American Identity." Organized and executed this 2-day event that included over 60 scholars and 100 participants from dozens of universities (March 2013)
Chair, Regional Chapters Committee of the American Studies Association (2011-2013)
Fulbright Scholar, Faculty of Philosophy, University of Zabreb, Croatia (2008-09)
Consultant for undergraduate and masters American Studies programs and for the Humanities PhD program, University of Zagreb, Croatia (2008-09)
Review Editor for the journal Studia Romanica et Anglica Zagrebiensia Zagreb, Croatia (2008-09)
President, Eastern American Studies Association (2006-08)
Article Referee, Journal of the Early Republic (2007-08)
Book Manuscript Referee, American Philosophical Society (2007)
Board Member, Virginia Quatra-centennial Jamestown Celebration Committee for Harrisonburg & Rockingham County (2003-07)
Consultant for Smithsonian Institution's National Portrait Gallery on Elisha Kent Kane images (2006)
Church Service
Board Member, Bridge of Hope Harrisonburg/Rockingham County chapter (2017-present)
Founder and Coordinator of the annual "Beans & Brews Festival" fundraiser for Bridge of Hope Harrisonburg//Rockingham Co. (2018-present)
Youth Mentor, Community Mennonite Church (2006-2013, 2018-present)
Co-Coordinator and Moderator "The Church in Black & White" a conference on racial issues within the Brethren and Mennonite churches, co-sponsored by EMU and the Brethren & Mennonite Heritage Center (September 2020)
Board Member, Events Committee of Brethren Mennonite Heritage Center (2010-2021)
Co-Coordinator, Valley Brethren-Mennonite Heritage Center's annual Harvest Day (2014 & 2015)
Board Member, Valley Brethren-Mennonite Heritage Center (2010-2013)
Community Mennonite Church 40th Anniversary Committee (2011-2012)
Presenter, "Changes in Church & Society:

WWII

to Present" at the Leading a Changing Church in a Changing World Conference, Eastern Mennonite University (Oct. 2007)
Judge for the Mennonite Archives (Goshen, IN) John Horsch Mennonite Historical Essay Contest (2002, 2003, 2005, 2006)
Honors, Awards and Grants
Funded Senior Scholar. University of Zagreb, Croatia (2017 & 2019)
Sabbatical Award. Eastern Mennonite University (2008-09, 2017)
Fulbright Scholar, Faculty of Philosophy, University of Zagreb, Croatia (2008-09)
Summer Teaching Grant. Eastern Mennonite University (2002, 2004, 2006, 2011)
Lilly Faculty Pilot Project Grant. "Reaching Out, Teaching In:

EMU

& Harrisonburg's African-American Community. (2005)
Summer Research Grant. Eastern Mennonite University (2002, 2003, 2004)
Quality Service Award. Eastern Mennonite University (Fall, 2002)
Grundy Resident Research Fellowship at the American Philosophical Society, Philadelphia, PA (1999)
University of Texas' 2000-2001 Dissertation Fellowship (2000)
Professional Memberships
Mid-Atlantic Popular & American Culture Association (2018-present)
Eastern American Studies Association (2001-present)
American Studies Association (1996-present)
Professional Conferences Attended
James Madison University African, African American, and Diaspora Studies Conference (Online, Feb. 2022)
Mid-Atlantic Popular & American Culture Association (Online, Nov. 2021)
Mid-Atlantic Popular & American Culture Association (Pittsburgh, Nov. 2019)
Anglophonia New Frontiers Conference (University of Zagreb, Croatia, May 2019)
Eastern American Studies Association (Harrisburg, PA, March 2019)
Mid-Atlantic Popular & American Culture Association (Baltimore, Nov. 2018)
International Symposium on the Cultural History of Capitalism (University of Zagreb, Croatia, April, 2017)
American Studies Association (Denver, CO, Nov. 2016)
Eastern American Studies Association (Franklin & Marshall, PA, April 2016)
New Courses Taught
COURSES TAUGHT (past 5 years)
HIST 101 US Hist I: Race & Reason

HIST 102 US Hist II: Mechanization & Modernization

HIST 103 US Hist III: Power & Paradox

HIST 312 History of Nineteenth-Century America, A Novel Approach

HIST 321 Modernizing America, 1865-1940

HIST 411 History of Recent America, 1941-Present

HIST 452 Seminar in History

HUM 200 Foundation of Humanities

HUM 331 BIPOC Cinema

HUM 421 Tutorial: Becoming America/n

HUM 440 Topics: Publication Project

HONRS

111 Ruling Ideas

HONRS

311 Honors Colloquia: The History We Tell Ourselves
American Literature: The Black Experience 1900-Now" (University of Zagreb, 2017 & 2019)
EMU Service
Director, University Honors Program (2011-present)
Chair, Honors Council and Committee (2011-present)
President, Faculty Senate (2020-2022)
Faculty Senate (2008-10, 2015-17, 2019-22)
Faculty representative to President's Cabinet (2020-2022)
VP for Enrollment Search Committee (2021-22)
Chair, History Department (2003-04, 2009-12, & 2017-2020)
Undergraduate Council (2003-04, 2009-2020)
Washington Community Scholars' Center Advisory Board (2009-2019)
Centennial Committee (2013-2017)
Centennial Book Advisory Committee (2011-2017)
Presidential Search Committee (2015-2016)