Ken Nafziger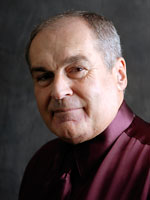 Education
BA, Goshen College
DMA, University of Oregon
This information has been pulled from J1.
If any of the above information is incorrect please see the instructions for directory updates.
Biography
Kenneth Nafziger was a post-doctoral conducting student with Helmuth Rilling in Stuttgart-Germany. In addition to his EMU course load, he is artistic director and conductor of the annual Shenandoah Valley Bach Festival (Harrisonburg, Va.), and of Winchester Musica Viva (in Winchester, Va.). Between 1999 and 2003, he made numerous trips to Cuba, where he was a guest orchestral and choral conductor, taught courses and workshops, and led EMU Chamber Singers. He was music editor of 'Hymnal: A Worship Book' (1992), editor of its accompaniment handbook, and assistant to the editor of 'Sing the Journey' (2005) and 'Sing the Story' (2007). He is active in the United States and Canada as a guest conductor, workshop leader and clinician. He co-authored a book 'Singing, a Mennonite Voice', which was released in 2001. On June 11, 2015, Nafziger was awarded the 2015 Circle of Excellence in the Arts Award, "for outstanding accomplishments and sustained contributions in the arts, improving the cultural vitality of the Shenandoah Valley." The award was given by the Forbes Center for the Performing Arts, the Valley Arts Council, and the College of Visual and Performing Arts at James Madison University.
Exhibits, Performances and Productions
12-19 June 2016, 24th annual Shenandoah Valley Bach Festival; conductor and artistic director, Harrisonburg, Va.
24 April 2016, Spring Concert, EMU Chamber Singers, Lehman Auditorium, with numerous guest musicians including the EMU Gospel Choir and the EMU Gospel Choir Band
17-18 April 2016, Spring Ayres, Winchester Musica Viva, Winchester, Va. with guests James Wood High School Chamber Ensemble, and the premiere performance of Georgianne Toole's Four Emily Dickinson Songs
6 February 2016, guest conductor with the Mennonite Heritage Festival singers at Lancaster Mennonite Music Festival, Neffsville Mennonite Church, Lancaster, Pa.
18, 19, 20 December 2015, Messiah, Winchester Musica Viva, Upperville, Harrisonburg, and Winchester, Va.; conductor
14 November 2015, EMU Music Department Gala Concert, conductor for shorter version of Leonard Bernstein's Mass, Lehman Auditorium
17-18 October 2015, Do You Hear the People Sing, concert with open invitation to audience to sing with us anything they wished to sing, Winchester Musica Viva, Winchester, Va.; conductor
Church, Community and Professional Service
12-14 May 2016, song leader and workshop leader, Ascending Voice IV conference, Pepperdine University, Malibu, Cal.
1 May 2016, planned and led a service of singing with the Harrisonburg Unitarian-Universalist congregation, marking the death of Lauro Torentino Rojas, a Turner Ashby High School senior who was killed in an accident with a truck, and whose death happened in the church's parking lot
10 April 2016, EMU Chamber Singers at Zion Mennonite Church, Broadway; led the worship service
20 March 2016, EMU Chamber Singers at St. Stephens United Church of Christ, Harrisonburg; participated in the worship service
19 March 2016, EMU Chamber Singers, Performing Arts Series concert, New Jerusalem Lutheran Church, Lovettsville, Va.
10 February 2016, EMU Chamber Singers led University Ash Wednesday Chapel
7 February 2016, EMU Chamber Singers, Choral EvenSong at the Emmanuel Episcopal Church, Harrisonburg
31 January 2016, guest music leader and planner of the worship service, Hebron Mennonite Church, Hebron, Md.
8-10 January 2016, co-led 29th annual weekend for music and worship leaders, Laurelville Mennonite Church Center, Laurelville, Pa.
14 December 2015, EMU Christmas Chapel, Who is this stranger in our midst?, planned and co-led with EMU Chamber Singers and Theatre Department
6 December 2015, EMU Chamber Singers at Muhlenberg Lutheran Church, Harrisonburg, participated in the worship service
22 November 2015, planned and led a service of singing with the Harrisonburg Unitarian-Universalist congregation, Our Own St. Cecilia
11 October 2015, Worship service planning and leading, with EMU Chamber Singers, EMU Homecoming Weekend
19-20August 2015, planned and led worship services for Fall Faculty-Staff Conferences, EMU
Professional Memberships
American Symphony Orchestra League
American Bach Society
American Choral Directors Association
Chorus America
College Music Society
Reimenschneider Bach Institute
The Hymn Society in the United States and Canada
EMU Service
Committee memberships: Honors Committee Bach Festival Board