Audrey Shenk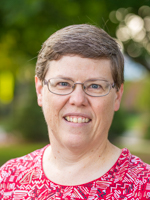 Education
BA, Eastern Mennonite University
MLS, University of South Carolina
This information has been pulled from J1.
If any of the above information is incorrect please see the instructions for directory updates.
Biography
Audrey grew up in East Petersburg, Lancaster Co., PA and graduated from Lancaster Mennonite High School. She graduated from Eastern Mennonite University with a B.A. in Mathematics. Her love of reading led her to work in the library in high school and college. Upon graduation she started working full time in the library as a cataloging and acquisitions assistant. As new technologies were introduced to the library over the years, her position changed to include responsibility for managing those new tools, leading to her current role as Systems Librarian. In 2017 she completed a graduate degree in Library & Information Science from the University of South Carolina. Her hobbies include singing, birdwatching, and doing a variety of crafts such as crocheting and counted cross-stitching.
Scholarly Presentations and Abstracts
"Virgil's Quest : How Six Virginia Libraries Joined Forces to Discover Their Next ILS", Co-presenter, Virginia Library Association Annual Meeting, Williamsburg, VA - Sept. 27, 2018
Church, Community and Professional Service
Treasurer at Zion Mennonite Church
Secretary, Librarian and Webmaster for Shenandoah Valley Choral Society
Treasurer and Webmaster for the Rockingham Bird Club

Honors, Awards and Grants
2016 Potomac Technical Processing Librarians Scholarship
EMU Quality Service Award, Fourth Quarter, 1995-96
Professional Memberships
Virginia Library Association
Professional Conferences Attended
TIND Users Group Meeting, Berkeley, CA, 2020
VIVA Interlibrary Loan Community Forum, Virtual, 2020
GlitterTIND Summit, TIND Users Group Meeting, Virtual, 2022