Stephen Gibbs Jr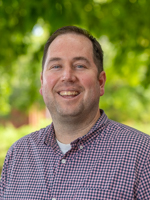 Education
AA, Rosedale Bible College
BA, Eastern Mennonite University
This information has been pulled from J1.
If any of the above information is incorrect please see the instructions for directory updates.
Biography
Steve Gibbs graduated from Eastern Mennonite University in 2004 with a major in Computer Science and minor in Youth Ministry after transferring from Rosedale Bible College. He has been part of Information Systems since 2007. He grew up in Cusco, Peru and is fluent in Spanish. Gibbs stays busy by volunteering at church with the Youth Group. He lives with his wife and three kids in Harrisonburg. He is also an avid sports fan. His favorite teams include the Philadelphia Phillies and Eagles.