Mary Sprunger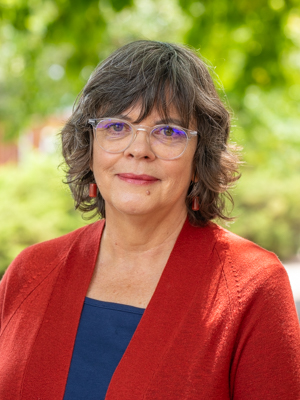 Education
BA, Bethel College (History & German)
PHD, University of Illinois at Champaign-Urbana (History Renassance Reformation with a Minor in Medieval Europe & Medievel Art History)
MA, University of Illinois at Champaign-Urbana (History)
This information has been pulled from J1.
If any of the above information is incorrect please see the instructions for directory updates.
Biography
Mary Susan Sprunger has taught at EMU since 1992. She earned a B.A. in history and German at Bethel College (Kansas) and an M.A. and Ph.D. in history from the University of Illinois at Champaign-Urbana. Her teaching interests include European history, world history, women's history, Mennonite history, historical movies and the China cross-cultural. She is writinig a book on the economic and cultural dimensions of a wealthy, urban Mennonite church during the Dutch Golden Age (the seventeenth-century). She is married and is the mother of two adult children.
Scholarly Presentations and Abstracts
"Merchant, Tailor, Fishwife, Sailor: Mennonite Identity and Community in Golden Age Amsterdam." University Colloquium, Eastern Mennonite University, September 2011.
Invited Participant: *"The Allochthonous and Autochtonous Mennonite Community of Golden Age Amsterdam: Internal and Translocal Networks as a Factor in Prosperity," Diasporas as Transloal Societies Workshop/Conference, University of Oldenburg, Germany, 1 September 2011.
"Mennonites, Capitalism and Modernity: Weber Revisited," Marginal or Mainstream? Anabaptists, Mennonites and Modernity in European Society, Bethel College, North Newton, Kansas, 25 June 2010.
"The Limits of Faith in a Maritime Empire: Mennonites, Trade and Politics in the Dutch Golden Age," The Limits of Empire in the Early Modern World: A Conference in Honor of Professor Geoffrey Parker, Mershon Center for International Security Studies, Ohio State University, Columbus, Ohio, 28 February 2009.
"Why the Rich Got Mennonite: Church Membership, Status and Wealth in Golden Age Amsterdam," Mennonites and Money: Wealth and Poverty in the Past and Present, Winnipeg, Manitoba, 10 Oct. 2008.
Invited Participant in Liberty Fund Conference "Religious Dissent and Liberty," Charleston, SC, 11-14 October 2007.
"Deaconesses, Fishwives, Crooks and Prophetesses: Women and the Burden of Mennonite Respectability in a Seventeenth-Century Congregation," International Conference: Myth and Reality of Anabaptist/Mennonite Women, ca 1525-1900, Vrije Universiteit, Amsterdam, 31 August 2008.
"Why the Rich Got Mennonite: New Findings on Membership, Status and Wealth among Early Dutch Mennonites," Anabaptist Colloquium, Harrisonburg, VA, 8 April 2006.
"In Bed With the Burgomaster: Mennonites and Political Influence in Golden-Age Amsterdam," Sixteenth-Century Studies Conference, Atlanta, GA, 21 October 2005.
Church, Community and Professional Service
Logistics Coordinator and Program Committee of the conference "Crossing the Line: Women of Anabaptist Traditions Encounter Borders and Boundaries" (EMU, 22-25 June 2017).
Consultant on new Mennonite History textbook (ongoing: attended meeting at Conrad Grebel College, Waterloo, Ont., Nov. 2015).
Film Interview, This Changed Everything: 500 years of the Reformation, produced by Christian History Institute (currently in production).
Sermon, Peace Mennonite Church, Dallas, TX (7 June 2015).
"Can Good Christians Be Good Capitalists? Early Mennonites and the Spirit of Capitalism."

EMU

Flash Seminar (4 Feb. 2015).
"Anabaptist History and Beliefs," presentation at Virginia Mennonite Retirement Center, 12 Aug. 2014.
Taught English and gave lectures on American history and culture at China West Normal University, Nanchong, Sichuan Province, Spring 2011.
Co-Organizer of Conference, Marginal or Mainstream? Anabaptists, Mennonites and Modernity in European Society, Bethel College, North Newton, Kansas, 25-26 June 2010 (www.bethelks.edu/MennosandModernity).
"The German Church and the Nazi State," A Voice in the Whirlwind: A Centennial Celebration of the Life of Dietrich Bonhoeffer, Massanutten Presbyterian Church, Penn Laird, VA, 25 March 2006.
Honors, Awards and Grants
Selected as one of 30 scholars nationally to attend the seminar "Homer Across the Curriculum: The Iliad" at the Center for Hellenic Studies, Washington D.C. (July 10-14, 2006).
Professional Memberships
American Historical Association
Mennonite Historical Society
Doopsgezinde Historische Kring
EMU Service
Faculty Workload Task Force
Committee on Teacher Education