Violet Dutcher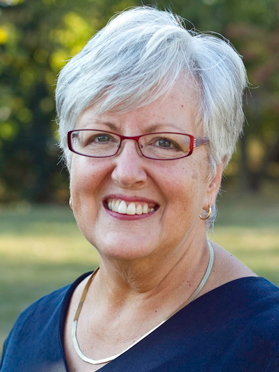 Education
BA, Kent State University (English; Rhetoric & Composition)
MA, University of Akron (Rhetoric & Composition)
PHD, Kent State University (English (concentration Rhetoric & Composition))
This information has been pulled from J1.
If any of the above information is incorrect please see the instructions for directory updates.
Biography
Dr. Vi Dutcher is a professor of rhetoric and composition and teaches writing and speech courses. Prior to coming to EMU, she taught writing and women's studies courses at Kent State University—Stark Campus. She has also taught at The University of Akron and Cuyahoga Community College. She enjoys linking her courses to community partnerships where students produce a deliverable product for a specified need in an organization. Her research interests are community literacy practices in general and Old Order Amish women's literacy practices in particular.
Scholarly Presentations and Abstracts
Women's Network Special Interest Group leader for the Feminist Caucus
70th Conference on College Composition and Communication
Pittsburgh, PA, March 2019
Women's Network Special Interest Group leader for the Feminist Caucus
69th Conference on College Composition and Communication
Kansas City, MO, March 2018
"Old Order Amish Women Writing Themselves"
Crossing the Line: Women of Anabaptist Traditions Encounter Borders and Boundaries
Harrisonburg, VA, June, 2017
Women's Network Special Interest Group leader for Committee on the Status of Women in the Profession
68th Conference on College Composition and Communication
Portland, OR, March 2017
"Love, Intimacy, and Care in Old Order Amish Women's Places"
Mennonite Higher Education Conference/Marpeck Deans
Bethel College, North Newton, KS, May 2016
Women's Network Special Interest Group leader for Committee on the Status of Women in the Profession
67th Conference on College Composition and Communication
Houston, TX, April 2016
Presenter in Panel "Gendered Risks and Rewards in The New Job Market(s): Changing Positions, Changing Locations"
66th Conference on College Composition and Communication
Tampa, FL, March 2015
"Common Writing Rubric and Assessment"; Presenter in Roundtable discussion: "WAC and WID Reformulated: Alternative Programming, Reading, Writing, and Assessment for Authentic Composition" 65th Conference on College Composition and Communication, Indianapolis, IN, March 2014
"Old Order Amish Women's Literacy Practices: 'I'll Bet This Thing Would Really Go.'" Kreider Scholar Presentation, Young Center, Elizabethtown College, Elizabethtown, PA, Feb. 20, 2014
"Teaching is serious": Blackboard Bulletin "bears fruit" for Amish Church
Amish in America: Plain Technology in a Cyber World
Elizabethtown, PA, June 2013
"Writing Tutors and Church-Sponsored Literacies"
Council of Writing Program Administrators Conference
Savannah, GA, July 2013
"The Basic Writing Classroom: Creating a Space to Learn
Council of Writing Program Administrators Conference
Albuquerque, NM, July 2012
"The Amish and Mennonite Women's Tradition" for panel titled We've Come this Far By Faith: Women's Literacy, Activism, and Faith Practices
62nd Conference on Composition and Communication
Atlanta, Georgia, April, 2011
Panel Moderator
International Writing Centers Association /National Conference on Peer Tutoring in Writing
Baltimore, Maryland, November 2010
"Lions and Tigers and Bears! Oh my!" Cross-Cultural Students and Perceptions of Cultural Adaptability
EMU Faculty Conference
Harrisonburg, VA, August 2010
Committee on the Status of Women in the Profession SIG & members meeting
61st Conference on College Composition and Communication
Louisville, Kentucky, March 2010
Poetry Reading and Panel Presentation
Wick Poetry Center 25th Anniversary Celebration
Kent State University, Kent, Ohio, March 2009
"How Does the Incarnate Word Affect my Scholarship?"
Mennonite University Faculty Conference
Eastern Mennonite University, Virginia, August 2008
"The Composition Classroom: Sites of Feminist Transformation"
58th Conference on College Composition and Communication
New York City, March 2007
"'Hurry Back!': The Circle Letter as Communal Liaison in Anabaptist Female Literacy Practice"
Mennonite/s Writing: Beyond Borders
Bluffton, Ohio, October 2006
Church, Community and Professional Service
Park View Mennonite Church Delegate to MC USA
Education Grant Committee, Park View Mennonite Church
Planning Committee member, Marpeck Deans conference, Spring 2016
The Conrad Grebel Review, consulting editor, 6-year term, 2015-present
SIG leader for Women's Network, CCCC
Women's Lives in the Profession Project member
Reviewer: proposals for 2011 and 2012 Council of Writing Program Administrators Conference
Member, Publications Committee, Council of Writing Program Administrators
Member, Standing Group on the Status of Women in the Profession (SGSWP) of Conference on College Composition and Communication
Reviewer for Kairos: A Journal of Rhetoric, Technology, and Pedagogy
Reviewer for Composition Forum
compiled NCTE resources for Interdisciplinary Feminist Studies/Gender Studies and General Journals in the Humanities at
http://www.ncte.org/cccc/committees/statusofwomen
Women's Lives in the Profession Project: Subcommittee CSWP
Honors, Awards and Grants
Sabbatical Award, Spring 2021
Faculty Research Release Time Award, Spring 2017
Sabbatical Award, Spring 2014
Kreider Fellowship, Young Center of Anabaptist & Pietist Studies, Spring 2014
Faculty Release Time Award Spring 2012
Summer Teaching Grant 2008
Quality Service Award, Second Quarter 2007-2008
Summer Teaching Grant 2007
Faculty Release Time Award 2007-2008
Professional Memberships
Anabaptist-Mennonite Scholars Network
The Coalition of Women Scholars in the History of Rhetoric and Composition
The Council of Writing Program Administrators
International Writing Across the Curriculum Programs
Mid-Atlantic Writing Centers Association
National Council of Teachers of English
Rhetoric Society of America
Southeastern Writing Center Association
Virginia Writing Center Association
New Courses Taught
CCSSC 201 Culture and Identity
Ethnic Women's Literatures of the Americas
Expository Writing
Argumentative Writing
Professional Writing
Nigeria Cross Cultural Studies
Academic & Professional Writing
Speech: Exploring Voice in Vocation
Reading & Writing I
Peer Tutoring Practicum
Introductory College Writing for Transitions
Advanced College Writing
University Research
EMU Service
Academic Success Center Director
Writing Program Director
Writing Committee, Chair
Executive Committee (UGC) Member
Academic Accountability Representative
Academic Council